Having a cat is surely a delight. But sometimes it comes at a price:
Hair. Cats love sleeping in random places. As a result you have to pick up hairs that get stuck to cushions, carpet, your sweater, laptop lid or keyboard, etc. It only gets worse during the molting season.
Scratches. Even if you clip your pet's claws every week, sharpening them is still a vital need. Usually, your furniture takes the hit.
Hygiene. While sleeping in random places — like your own pillow — cats spread germs. In the long run, it may affect your health and cause allergies, skin irritation, and other unwanted symptoms.
So, creating the no-cat zones is a great tactic. But how can you tell your little rascal to stay away from, let's say, a kitchen table?
Pros
Designed with big cats in mind
Reinforced bearing platform
Top Pick
Pros
Designed with big cats in mind
Runner-Up
Pros
Reinforced bearing platform
It's clear that commanding tone and punishment won't help. Instead, you can provide your fluffy marauders with their own territory where they can go bananas or chill.
It's called a cat tree, which is one of the best ideas for cats in small apartments. And I present to you my top 7 personal picks that don't require much investment. Show your kitties more love and care with the best cat tree for a small apartment!
7 Best Cat Trees to Get Now
Now, let's take a look at the best cat trees that you can place in your apartment.
1. Feandrea Cat Tree for Large Cats — Best Combo of Quality and Price
Our first item, Feandrea Cat Tree, is an absolute champion on this list. It's not just a humble cat tree, but rather a whole small cat tower.
It has a two-story architecture. On each, there's a small cavern, inside which your kitty can hide from the outside world and relax. The construction is crowned with a spacey platform that can easily accommodate a mid-sized dog.
The thing seems to be satisfyingly sturdy when assembled. You can examine it yourself and give the cat condo a few wobbles — it will remain stable no matter what, and no loose screws will rain over the floor.
The size of the smallest model is 19.7″L x 15.7″W x 43.3″H, which is considerable. Yet, the condo doesn't occupy too much space. So, even if you live in a compact apartment, this cat house won't make it feel overcrowded.
As for comfiness, Feandrea has a nice plush-like sheathing. It's fuzzy, warm, and pretty pleasant to touch. It's made of cat-friendly materials, so your pet won't suffer from allergy.
But since this fabric is synthetic, it's not very efficient at trapping warmth. So, if you live in a cold climate, place the condo near a radiator or another source of warmth. (Except a fireplace, of course).
Its columns serve two roles. Apart from bearing the whole construction, they are also scratching posts. Covered with a rope made from sisal — a plant used for making carpets — they make two nice non-toxic and durable claw-sharpeners.
As for the rest, Feandrea is the top choice for its money. It's easy to assemble, portable, smartly structured, and quite cozy. Its grayish design will greatly complement a minimalistic apartment. And breeds like Main Coon, Ragamuffin or big Siberian cat will nest in it with pleasure.
PROS:
Compact construction.
Plushie covering material.
Sizeable top platform.
Amazing sturdiness.
Designed with big cats in mind.
CONS:
Bottom screws may scratch the floor.
Dogs love it too.
2. Bewishome Cat Tree for Small Spaces — Runner Up
Bewishome is a tad smaller than Feandrea: 21.7″L x 15.7″D x 37.8″H. But the narrowed living space is compensated by its creative and smart design.
Here we have two levels with cozy, two-entrance huts. They are spacey enough for a grown, chubby cat.
And apart from coziness, they are also great for accumulating warmth. So again, if you live in a cold climate, a condo like this will save your cats from turning into penguins.
The Bewishome's top is a soft 'penthouse'. An 11-lb/5-kilo cat can easily relax when lying there, without risking crashing the condo and squashing the sleeping 'neighbors' below.
The covering fabric feels wonderfully soft, so your cats will get addicted to sleeping on it. Besides, you can choose from two color options: gray and black plush.
Bewishome also has two nice touches. First, there's a ramp, which leads to the second story. It's covered with sisal. Not only will your feline get a bit of exercise, preventing obesity, but also sharpen the claws, sparing your furniture.
Second, there's a jingly ball on a string. Whenever your tabby needs to play, this little toy will save the kitty's mind from boredom.
Scratching poles are also on the menu. They are covered with sisal and will last for a pretty long time. Even if you have a pet ocelot who needs to sharpen its deadly daggers a few times a day.
PROS:
Very stable.
Reinforced bearing platform.
A toy ball.
Scratching posts and a ramp.
Two-color options.
CONS:
The top perch isn't too big.
Has the factory smell.
3. Vesper Tall Skinny Cat Tree — Stylish Premium Pick
Vesper is a perfect cat house model if you prefer austere and minimalistic design. It looks like it was inspired by the Ikea's furniture and has a warm wooden color. (Black, walnut, and oak are available color options).
However, some may not like the pointy angles that its hut has. By the way, there's just one hut, so if you have at least two chubby cats, prepare for a territorial war.
The construction includes three stories: bottom perch, hut, and the top perch. It's quite tall, as its height is basically 48 inches. But since cats enjoy climbing and nesting in high places, this must be alright.
Each perch is enhanced with a white pad. These pads are made from a combo of materials: Velcro + NASA-designed memory foam. That means such a smart cushion will remember the outlines of your chubster's body, which provides extra comfy sleep.
The stretching posts are covered with one layer of sisal rope. Although it handles claws quite well, it's not entirely immune to intense scratching. And if you have two or more Scratchies, the rope layer will peel off soon.
Finally, there's a string with three jingly toys that your cat can lazily explore. They aren't entertaining much but may provide some useful paw exercise.
All in all, Vesper is a space-saving cat tree. They seem to follow their Elegant & Practical motto, although a fatter layer of sisal rope and more durable pads would be a fat plus.
PROS:
Original design.
Tall construction.
Pads with memory foam.
Attached toy.
Ample scratching material.
CONS:
Just one hut.
The brand could have used more sisal rope.
4. Big Nose Minimalist Cat Tree — Perfect for Smaller Kitties
Big Nose offers a neat and handy solution for owners of mid-sized cats. Here we have three levels: two perches and a cute little hammock on top that looks like a pigeon nest.
I love that everything here is made from natural and, therefore, hypoallergenic materials. For example, the perches are crafted from pine wood. They are quite sturdy and tightly attached with steel screws to the central column that is 43 inches high.
However, this thingy works best for petite kitty-cats. The problem is that both hammock and perches aren't that big. According to the manufacturer, the optimal weight of a grown cat to sleep on one of them is about 15 lbs or 6 kilos.
What you might appreciate is that perches/ the nest can be turned in different directions. This way, you can arrange the cat tree any way you prefer. Want to let your cats practice climbing more? Or is using your living space more economically your priority? No problems!
As usual, scratching is also an option. The bearing column is wrapped with sisal rope, so cats can take care of their manicure any time they want.
I also like that assembling this model is disgustingly easy. All you need to do is place a couple of screws in their respective holes — and voilà, the cat house is ready. You might need to sprinkle some catnip, though, to banish the subtle factory smell.
PROS:
Affordable solution.
Easy to assemble.
Lovely nest-hammock on top.
The perch direction can be adjusted.
Natural materials.
CONS:
Not ideal for big and heavy cats.
Has no hut.
5. Kerbl Dolomit Tofana XL — Pretty Tall Thin Cat Tree
This Kerbl model is one of the tallest cat trees on the market — 185 cm! It has a fantastically stable construction. So, if your cat is the size of a bear cub and jumping is a major part of its daily schedule — go with Kerbl.
The tree should be attached to the wall. In return, you'll get a cat house that is immune to shaking and wobbling. In fact, it seems so durable; the whole cat dynasties can grow, sleeping, and playing on that tree.
You get 7 perches in total — enough to accommodate a whole fluffy cartel. Your cat/cats will get plenty of exercise and fun with this tree. Its two columns are covered with sisal for scratching purposes.
However, you might need some extra rope to reinforce the posts. The sisal layer was seemingly prepared for two cats max. If a bigger feline pride attacks it, the poles will go naked in a matter of days.
There's just one hut included. But its interior is spacey enough to accommodate two grown cats — perfect for hibernating during cold winter days.
To sum up, I really like what Kerbl has to offer. To a cat, it's like a luxury condo. It will last for years or maybe decades, and it will become an organic part of any apartment interior easily.
PROS:
Impressive height.
Excellent sturdiness.
7 perches + one hut.
A lot of fun for cats.
Aesthetic design.
CONS:
A bit pricey.
Sisal layer isn't fat enough.
6. Ruff 'n' Ruffus Small Cat Tree — Foldable and Handy
No products found.
Ruff 'n' Ruffus offers, by far, the top optimal solution for small apartments. This thingy is just 20.25" (L) x 13.75" (W) x 25.5". So, basically, you can place it anywhere and not waste too much space.
What's even better, it's foldable. If you need to move the kitty's house to another room, the Ruffus' model will be extremely easy to handle and light to carry.
But practicality isn't the only strong aspect. I love the cute design, which turns the bottom part of the tree into an improvised layer. (Just like the ones that some feral cats live in).
On the side, there's a scratchpad that offers solid sturdiness and claw-resistance. And above it, we have two hanging play balls — action for the idle paws.
Finally, on the top, there's a pretty comfy hammock. Although it's not too spacey, it can handle a grown cat of a reasonable size and weight. The whole construction is covered with a soft plush-like fabric.
However, bear in mind that Ruffus is a light-weight among the cat trees. It's frame and fabric are pretty thin. And if your cat is a true tempest when it comes to mischief, it can easily topple the thing amidst playing.
But as a nice bonus, you get a complimentary laser pointer and a set of cat toys. Couple it with a low price, and you get a nice piece of cat furniture for small spaces.
PROS:
Foldable construction.
Easy storage.
Free bonus toys.
Quite affordable.
Nice neutral gray color.
7. AmazonBasics Cat Activity Tree — Compact Tower with Scratching Posts
Our final item can be best described as a skinny cat tree. It's designed as a compact solution with dimensions of 17.7 x 17.7 x 45.9 inches. It works fine for a mid-sized cat; meanwhile, chubsters might not fit well on its narrow perches.
Seemingly, the model was made for single-cat parents. Its construction is pretty sturdy but not stable enough to handle multiple cats doing their shenanigans on it.
Poles are made from thick cardboard. So, if you decide to buy this model, you need to reinforce its legs with additional weight. Otherwise, an overly energetic kitty can make it collapse.
Sisal rope is also present, but again only as a thin layer. So, if your kitten has a set of wolverine claws, replacing the rope might become a need in about one month.
PROS:
Needs little space.
Three stories.
Easy to relocate.
Nice sleeping perch on top.
Cats seem to like it.
Cat Tree Buyer's Guide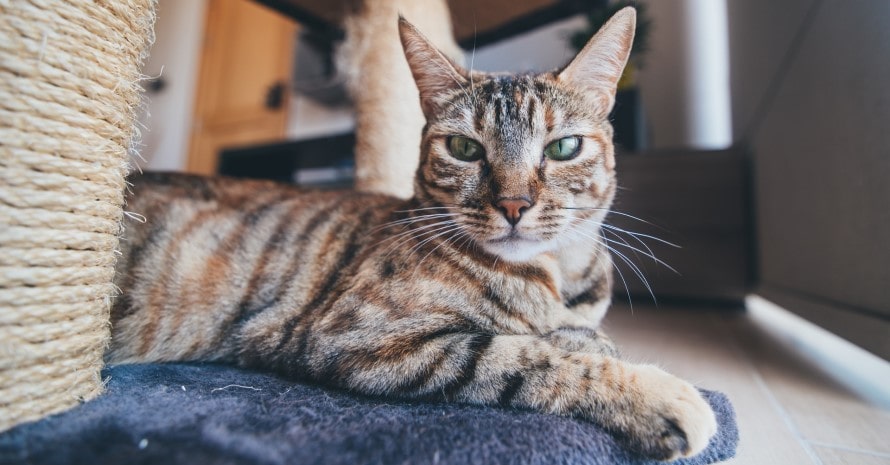 By now, you probably have a few questions regarding the cat trees. Here are some top sought-after answers.
What is a cat tree?
It's a 'cats-only territory'. A playground, a jungle gym, and a lounge zone in one. And every good cat tree needs to have certain components.
Scratching posts
Regularly, it's a pole wrapped with sisal rope. An agave family plant, Brazilian sisal is a sturdy material. Plus, it's famous for its resistance to getting stained, wet, etc. And once your cats annihilate it, you can easily replace the rope yourself.
Levels of perches
Classically, a cat tree has two or three levels. That's enough for one or two felines. If your pride starts with 3-4 cats, then having a multi-level, maybe modular cat tree is preferable. Otherwise, cats will constantly be bickering over who gets to sleep on the softest perch.
Inbuilt accessories
A good cat tree is also a fun zone for your fluffster. It wouldn't hurt to have a few jingly balls on the cat tree that a kitty can play with instead of attacking your toes or thrashing newspapers and napkins.
But a few warnings must be made. First, the string that fastens the ball to the cat tree cannot be long. It's dangerous as your kitty can accidentally entangle in the string and even get strangled. Second, all toys should be soft, washable, and non-toxic.
What to look for when choosing a cat tree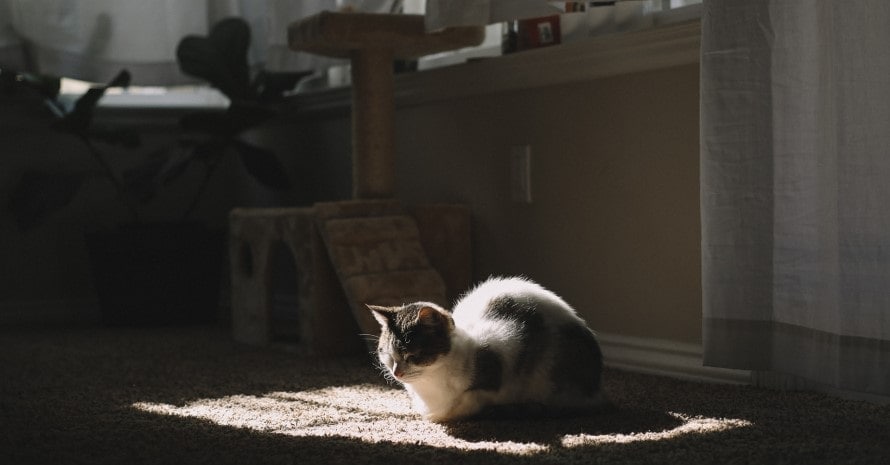 Now, here are a few factors to consider before getting a cat tree.
The size of the apartment
Before ordering a cat tree, do some easy math. How spacey is your apartment? Can you really afford to place a 6-feet tall installation with multiple perches, toys, and scratching posts? Or would a narrow cat tree be a better choice?
You should be ready to sacrifice at least about 3-5% of your living space. Because it's not just a cute cat bed, but also an exercise and play area.
Ease of assembly
Mostly, cat trees are easy to assemble. There are just a few elements you need to connect: perches, bearing poles, and huts. Modular cat trees are even easier to handle as they resemble a construction toy and can be rearranged at any time.
The needs/desires of your cat
To spark true chemistry between your feline friend and its new apartment, you should consider your kitty's habits and preferences.
Does your cat enjoy height? Is it very active and sporty? Or does it prefer taking long, sweet naps? Cats are different, as you can see. And while one may enjoy a simple slim cat tree, another kitten may require an extra scratcher and a set of toys.
The number of tabbies is also important. The more fluffsters you have, the more perches, huts, and scratchers you'll need. Otherwise, at least one of them will have to play the role of an outcast who can only watch a game but sadly can't join.
Stability and sturdiness
It's best to trust cat trees made of solid materials. Steel and natural wood are your best friends in this case. Thick cardboard is alright too, but only if you have one kitty who isn't overly energetic or vandalistic.
Warranty and guarantee
The warranty period usually correlates with the price you pay. In most cases, cheaper cat trees offer one year of guarantee. More expensive and bigger models beat that and offer from 36 months to 5 years. But the cat tree can survive much longer if your pet prefers a calm and measured lifestyle.
The costs
A good cat tree may cost you as little as $30. And more luxurious cat condos will easily exceed the $100 price tag. So, before making a choice, consider your cat's needs, the free space you can use for that, and also how often you switch apartments.
Cat Tree FAQ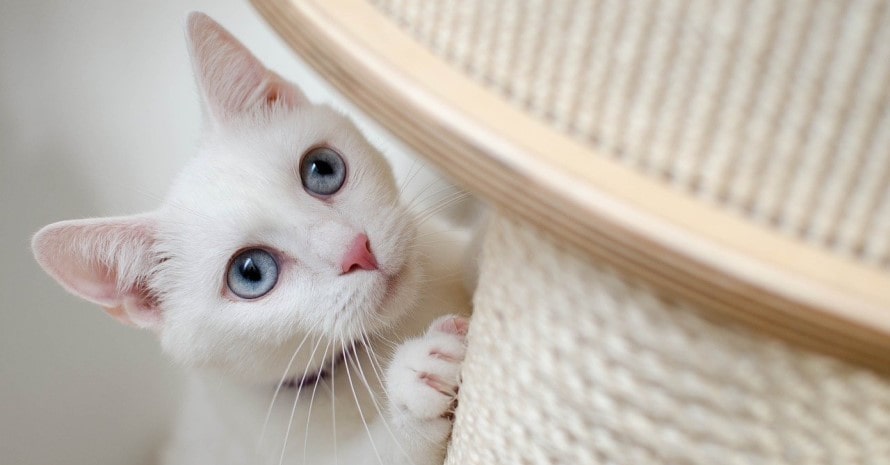 Here I offer a few popular questions about the specifics of having cats at home and the ways to introduce a new cat tree to your tabby.
Is it OK to have a cat in a small apartment?
Well, sure. Even a Main Coon will easily fit a minimalistic one-bedroom apartment. But no matter how small it is, your furry roommate must have their own place.
How do I keep my cats entertained in a small apartment?
A cat tree with extra toys is a good idea. You can also place a bird feeder on the other side of the window, so your kitty can do bird-watching.
Skyping your pet via PetCube, getting a food-dispensing toy, or leaving a ping-pong ball with a set of shower-curtain rings may also help.
How tall should my cat tree be?
It depends on whether your kitty likes heights or not. Ideally, a small room will do with a tree that is 40+ inches tall.
Also, a higher option automatically means a bigger price and additional labor — if such a tree isn't attached to the wall by design, you'll have to stabilize it with something heavy.
Where is the best place to put a cat tree?
So, where to put a cat tree? Place it as far away as possible from the kitchen, your bed, and working desk.
Also, I wouldn't recommend placing it near a door if it's a high tree: cats have an instinct of descending on their 'prey' (you, in other words) from above. Even though it's just a game, it can provide certain injuries.
The best area is near a window. First, cats enjoy checking the outside world. Second, that's where a radiator is regularly stationed. Third, it gives them a broad view of the entire room, which is important for cats being watchers by nature.
Comfy Cat Bed & Awesome Naps
Hopefully, my guide has shed some light on the delicate matter of picking a good cat tree. Luckily, even if you're on a shoe-string budget, you still can find a worthy product from my list. It will be both comfortable and safe for your fluffy roommate.
What's your favorite cat tree model? Do you know any alternatives? Let us know in the comments below!
Last update on 2022-06-26 / Affiliate links / Images from Amazon Product Advertising API