Okay, now you have a little ball of fur in your room, and it's running all around, meowing loudly, and trying to knock you off your feet with its little tail. Maybe, it's not that furry (or not furry at all); maybe, its tail is too tiny to be seen. What all the kittens have in common is that they need to eat. And selecting the best kitten food will be the best way to show you care.
Pros
3-oz cans are easier to dose
Runner Up
Pros
3-oz cans are easier to dose
Humans or cats, we are what we eat. Choosing the right kitten food will keep them healthy and jolly. It's not mice and rats why we keep cats at our homes today: it's that feeling of care, warmth, and happiness. But to be healthy, a pet needs to be well fed. That's why choosing top kitten food matters.
Though there is an indisputable leader on this list, and that is Hill's Science Diet Kitten Canned Cat Food, there may be many reasons to prefer other kitten food. It will be safer to stick to those on the list. I didn't mention any food that I consider harmful or unreasonably expensive: each of them can be a rational (pun intended) choice.
10 Best Kitten Foods I'd Recommend
Choosing the best food for a pet by experiment is hard work. You need to feed it with a certain food for some period and observe it carefully, checking the reaction. Any harmful consequences may be delayed (that's similar to politics). When it comes to kittens, it's even harder because they are growing fast, and if you give a month to a certain food, you will have to compare, say, a 5-month-old kitten's reaction to a 7- or 8-month-old, and the difference is obvious.
1. Hill's Science Diet Kitten Canned Cat Food: The Top Pick
If you need the definitely best kitten food, the most acclaimed manufacturer is Hill's. Like it happens with most startups, Hill's started with personal involvement. A young blind man was heavily invested in his guide dog that suffered from kidney failure. That's why he contacted Dr. Mark Morris Sr for help. In 1948, they partnered with Mr. Burton Hill, who owned a packing factory – and gave his name to one of the most popular pet foods by now.
Though it all started with a dog, Hill's produces fine cat and kitten foods. This particular wet food is made for kittens and sold in 2.9-oz cans (98 g). It's the common size for cat food, though it may be too much for one meal if you have only one kitten. For a bunch of four or five, you may need more than one can.
The formula includes an increased protein rate, especially necessary if your indoor kittens have no opportunity to run around in the open air and build their muscles more naturally. Outdoor dwellers, though, will benefit from it too. Mineral components are meant to enforce the bones, especially the teeth. As for the fur, it also benefits from it noticeably.
All the flavoring is natural. As for tastes, it comes in two options: savory salmon and liver-and-chicken. Both are enthusiastically met (at least, by my kittens who consider it the best canned kitten food).

PROS:
Tasty (as for kittens);
High proteins and minerals;
Affects the fur positively;
High-quality ingredients;
Made in the USA.
CONS:
Not the most affordable one;
Only two tastes are available.
2. Purina Pro Plan Kitten Food Pack: Best Wet Food for Cats with Diarrhea
While Hill's is highly valued by vets and other pros, Purina is arguably the most popular pet food brand among customers. Pro Plan is considered one of the best series within its roster, and this sort is particularly developed for kittens. It comes in 3-oz (85 g) cans that are smaller than those by Hill's, but one kitten's portion is about one ounce a meal. You will not need to split it as many times; one kitten under 2 lbs needs just one can a day, in usually three meals.
It becomes commonplace to make and advertise high protein kitten food. In this one, natural ingredients – fish and poultry – are also used as well. But this item by Purina is also great at hydration, which is just as necessary for the kitten's health. It also contains ingredients meant to make the pet's immune system stronger.
What also impresses is the variety of flavors. There are chicken & liver, salmon, tuna, ocean whitefish in different variations. And, of course, you can buy a variety pack that contains various pieces to learn what your pets appreciate the most. If you prefer grain-free kitten foods, there is one too, chicken-and-liver-flavored.
By the way, this food is reported to help with gastro issues, acclaimed as the best-wet food for cats with diarrhea. Its texture is soft and tender, with no pieces noticed, yet it really helps the cat's digestion.
What's confusing about this item is that it contains some unnamed preservatives that make it look a little suspicious. Still, those of my friends who have used it report no noticeable issues about their cats' health.

PROS:
Proven quality;
3-oz cans are easier to dose;
Numerous flavors;
Grain-free option;
CONS:
Contains preservatives;
The aroma is stronger than that of other brands.
3. Royal Canin Wet Kitten Food: Loaf-in-Sauce Option for Healthy Nutrition
When I say Royal, I mean it's a king-size option. The can contains 5.8 oz (165 g) of kitten food: it's almost twice as big as the one above. Royal Canin knows how to justify its name! When it comes to quality, though, there is also a lot to tell.
Founded in 1967 in France, this company is now a part of Mars corporation, and, despite its name, it promotes égalité – that is, it has something to offer to any specific group of dogs or cats. Kittens are among the first on the list, of course.
The kitten food I review is loaf-in-sauce-flavored, and the texture is great for kittens. Its texture is quite tender, and the food contains enough proteins, fiber, antioxidants, and all the stuff the manufacturer considers necessary for kittens to grow healthily.
While the can is larger than usual, it can also be a dealbreaker if you have only one kitten and cannot feed it all within a day. If there are several, though, it's a great offer. Anyway, the manufacturer recommends feeding kittens with both dry and wet food (like most cat owners do).

PROS:
Big cans;
The most affordable price for premium foods;
High-quality ingredients;
Tender texture with thin slices.
CONS:
Big cans aren't as good if there's only one kitten;
Flavor options are too narrow.
4. Instinct Original Kitten Grain-Free Recipe: All-Natural Kitten Food
What can be more animal than instinct? Instinct is what leads animals to their food. So the manufacturer obviously assumes that if the cats were to choose, they would opt for theirs. The Instinct food is said to be made as an analog of natural food (obviously, it's meat that's implied), so the balance of the nutrition is imitating the real raw one. In fact, it utilizes tapioca as a binder, but, as tapioca roots are used, it still keeps the product grain-free.
Not only is it grain-free, as the name suggests. The manufacturer also uses no preservatives and no artificial colors. Its main ingredient is chicken, and it's proudly stated that the chicken is cage-free (it must mean a healthier source). The result is a high-protein and tasty food. As the facilities are situated in the USA (in Lincoln, NE, to be exact), and this means an extra guarantee that all claims are true.
The food comes in cans of various sizes (3 or 5.5 oz), so it depends on your cat population to select the optimal size. The price is never low, as this product is positioned as the most natural kitten food possible.

PROS:
No grain or preservatives;
Chicken as the main ingredient;
Good balance of proteins and stuff;
Tender texture;
Good for old cats as well.
CONS:
Quite pricey;
Very strong smell.
5. Wellness Natural Wet Food: The AAFCO Mandated Cat Food
Wellness is another American brand, with its HQ in Massachusetts, that offers premium foods made of – as they state – animals, plants, and minerals, with no artificial ingredients. More than that: it's the only manufacturer that gets its foods certified by AAFCO and offers detailed reports on minimum protein and fats and maximum fiber and moisture.
That must mean its foods are, if not premium class, neither junk.
As for its natural cat food, it comes in various sizes, including 3 oz, 5.5 oz, and the 12.5 oz option for larger bunches. Flavors are also in excess: Beef & Chicken, Beef & Salmon, Chicken, Chicken & Herring, Chicken & Lobster, Turkey, Turkey & Salmon. So if your kittens' tastes differ, you can satisfy them within one brand`s offers.
If you, for some reason, need only grain-free options, Wellness is a win-win option. All of its cat foods are grain-free. What they do contain is natural proteins, omega fats, and antioxidants.
Though there is only one food in all this product line defined as "Kitten", it can be fed to those pets of 6 months or older. Generally, if you are satisfied with its Kitten line and want to switch foods seamlessly as your kitty grows, it can be done within this Complete Health™ Pâté line.
What some dislike is that some foods are actually made in Thailand. It shouldn't worry you much because American certification remains. But if you want it American made, you have lots of other options, including those by Wellness.

PROS:
AAFCO-certified;
The large variety of flavor and size options;
All-natural ingredients;
Safe thickeners used.
CONS:
Only older kittens can enjoy all this diversity;
Some foods are made outside the US.
6. Blue Buffalo Wilderness High Protein: The Best Dry Kitten Food
The story of this manufacturer from Connecticut would have made a good movie script. Founded in 2002, this brand (as the legend has it) is named after a dog named Blue that once had health issues, so his owners decided to develop the perfect food for pets. Yes, it has cats covered too.
It's considered the healthiest to combine dry and wet foods. And while I have reviewed some wet foods, here is what I consider the best dry kitten food. It comes in easy to use 5-pound packs, so you won't have to keep it open for long. The zip lock prevents the food from getting too dry, too moist, or losing its taste (when it does).
This food contains real chicken meat but no by-products; neither does it have any soy or wheat. Instead, it contains a proprietary mix by BLUE – so-called LifeSource Bits. These are the grains containing minerals, vitamins, and antioxidants.
The overall impression is easy to make simply because most kittens love this dry food by Blue Buffalo. Wilderness is their favorite of all dry foods by Blue Buffalo, probably because it contains more protein from chicken meat than any other sort.
Just make sure you purchase the Kitten version because the line also offers Wilderness foods for adult and mature cats.

PROS:
The natural chicken meat used;
Contains no potential allergens;
Adored by kittens;
LifeSource Bits with minerals and vitamins;
No by-products.
CONS:
The zip-lock doesn't always function as supposed;
The price is rather high.
7. Instinct Original Grain Free: Best Grain Free Kitten Foods
If your furry minors liked the wet food by Instinct, you could save some effort by purchasing both dry and wet food from the same vendor. This grain-free dry food comes in bags of various sizes, from 2.2 to 11 lbs. Larger bags let you save a bit more, but if you only have one kitten, or you are switching your bunch to adult food, there are smaller ones.
The manufacturer claims this food is 100% natural, containing 77% animal ingredients and oils and 23% vegetables. As for grains or soy, there is said to be none. These statements are to be checked – and thus, they are to be believed. The know-how is a raw coating that makes pieces more attractive to kittens. This raw is made with no cooking and as little processing as possible.
As for the reception, it differs, mostly because the manufacturer updates the formula. The first version contained menadione, chicken fat, and tapioca, which are no more present in the current product. The problem is that kittens who got used to the previous formula may react unhealthily to the new one. If you are just starting, though, this should not be an issue.

PROS:
100% natural;
Diverse flavors;
High protein;
Great for allergic cats.
CONS:
The formula often changes;
A bit overpriced.
8. Purina ONE Healthy Kitten Formula: Affordable Option for Kittens Without Health Issues
This is probably the most affordable and popular product on our list, as Purina has always operated at the mass market. Along with its premium lines, there are "less premium", such as Purina One, which comes at about half the price of Pro Plan. To make it even a better buy, it comes in various sizes, up to 16 lbs. Still, you would probably buy less unless you own a cat football team.
It also offers a high protein diet for growing kittens, made mostly of chicken meat. It also contains DHA, vitamins, and minerals. On the other side, it is reported to contain corn that's not generally a bad filler. Researchers prove that corn-filled foods are not causing higher glucose level as much as, say, those with rice flour. But if your cat has diabetes, you better find a grain-free option.
On the other hand, if you care for a cat that's been suffering from hunger for a long time, it's a good food to help it gain the necessary weight.
Generally, it's the most popular high-quality kitten food (not the highest, as you may see, but still very decent). I would recommend it if you were sure your kitten had no nutrition issues. If it suffers and reacts unhealthily, you better switch to something filler-free.

PROS:
Comes in various sizes;
Natural ingredients;
High protein content;
Highly popular and easy to find;
A very affordable option.
CONS:
Corn as a filler;
Not an option for diabetic cats;
Can cause digestion problems if you switch to it fast;
9. Iams Proactive Health Kitten Dry Chicken Recipe: Kitten Food for Strong Immunity
Iams was founded in the USA in 1946, and it had glory moments in its history, like its refusal to change the formula during the Arab oil embargo in the 1970s, despite the losses it caused. This reputation lets the company promote its products successfully worldwide.
As for this particular dry food, it is said to contain everything a kitten needs to grow healthily. It has lots of protein, vitamins, fiber, and all the useful ingredients. The main component of this food is "real chicken" – that is, not chicken by-products.
Though IAMS is among the best kitten food brands, there is something you may dislike about this sort of food. In it, corn is used as the filler. The ambassadors advocate this decision, arguing that corn is the source of fiber and vitamins. In fact, it is. But as well, it is the source of carbohydrates that may do your kitten no good, especially if it's allergic or diabetic, so carbohydrates should be restricted. So you better buy this food only if you're sure your kittens are completely healthy and can stand its possible consequences. By the way, most kittens can.
The reason why corn is used is, first of all, to make this food cheaper. And IAMS succeeds: this Proactive food is quite an affordable sort, not yet being one of the junk sorts. Still, if you see your cat suffering from it, you better switch to something grain-free.

PROS:
Mother's milk imitated;
DHA & vitamins included;
Made in the US;
Purchase options (dry & wet);
Affordable price
CONS:
Uses corn as the filler;
Contains less protein than rivals.
Pros
10. Royal Canin Feline Health Nutrition Dry: For 4-Month and Older
This is quite a special kitten food. The matter is that Royal Canin offers a split line of kitten food. It's divided into two: food for baby kittens and for those who have grown a bit. This is the former one, addressed to kittens of four months or older.
The food contains highly digestive proteins and fibers, vitamins, and minerals. This food is especially well-known for its antioxidants that help the immune system. The texture is easy for kittens to chew, so the pieces will not lie on the tray for long.
The composition can make you suspicious as you read it. This food does contain chicken fat and other by-products, brewers rice, wheat, and corn glutens – everything you have been taught to avoid. Still, you must acknowledge that a healthy organism can handle all this. Humans have even more reasons to complain – and yet we make it.
Anyway, this is not the food for your kitten if you know for sure it's diabetic or has some incompatibility with corn or wheat products. A healthy one will probably live on this with no significant problems.

PROS:
Tasty (as for kittens);
Extra support for the immune system;
Highly digestible;
Easily chewable;
Very affordable.
CONS:
Meant for kittens that are at least 4 months old;
Lots of suspicious ingredients.
Buyer's Guide and FAQ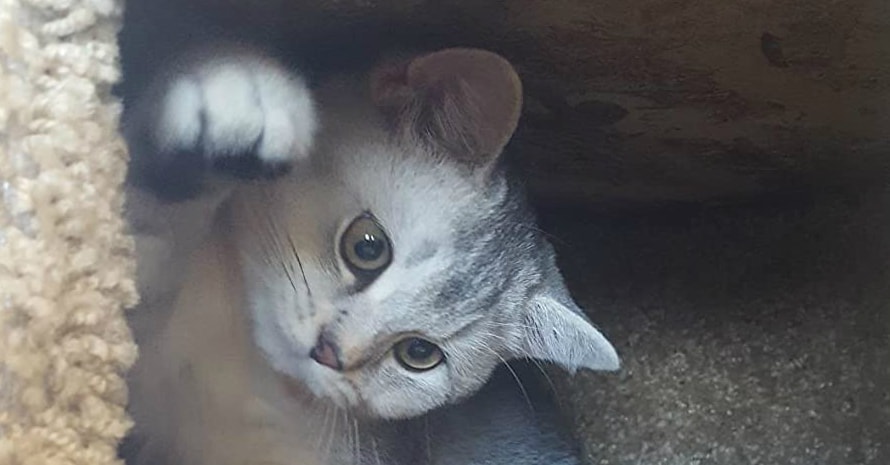 If you made it through the reviews, let's sum them up in a brief buyer's guide. Here are some recommendations on how to choose good kitten food even out of unknown brands and product lines.
The fact that the product you consider has been approved by the FDA does not mean it's necessarily safe for your particular kitten. It doesn't have to be. Yet, due to FDA regulations, you can be sure that the labeling of the foods is correct, and claims about what this food does contain and what it doesn't have been confirmed.
What to consider while choosing kitten food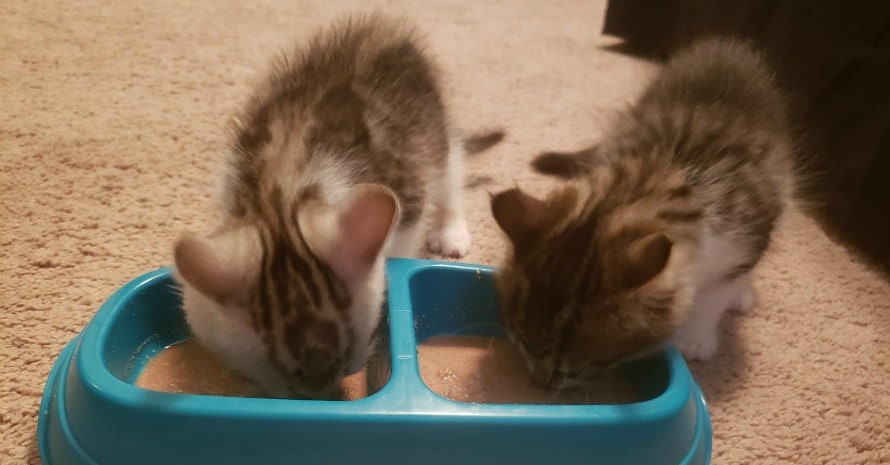 If you are running into food that seems quite an option for your kitten, there are some critical nuances you should pay your attention to.
Proteins. The more proteins the kitten food contains, the better. It's important for all cats, but kittens require more proteins than adults just because they are growing.
Minerals. Usually, manufacturers don't specify these, but they are important.
Vitamins. There will never be too many of them: it would have been too expensive for manufacturers.
Fillers. Of course, fillers are never expected to be something good (rather an inevitable evil). But some of them are worse than others. For example, grains are not considered a good filler, neither is soy, though it's generally rich in protein – but not the right type of it for carnivores. As for corn, it's too rich in sugar. It's no good for diabetic kittens, even if you call yours Jack Daniels. In the perfect world, kitten food would contain no fillers at all. And these sorts exist in our world as well, but they are more expensive.
Artificial colors. Just avoid them. As you see, even the natural kitten food isn't necessarily a healthy one, especially for kittens with some issues. Hardly will any of the foods available on the mass market be very harmful to healthy kittens, but those weakened or sick may need special food.
Choosing dry kitten food
It's rather sophisticated when it comes to adult cat foods but way simpler with kittens. Most (probably all) cat food manufacturers offer special kitten versions of their foods, with more protein, calcium, vitamins, and stuff. You just need to select among these.
But it's all in vain if your kittens just refuse to eat it. Sometimes it just happens for unknown reasons. Then you should try other options, and select among those they would eat.
Choosing wet kitten food
The algorithm for choosing best-wet kitten food is the same. Everything about ingredients concerns both dry and wet foods. But here comes another factor: texture. Cats – even kittens – have their preferences about it. Some prefer medleys; some are crazy about loaves. Again, you better examine your kittens` reaction and then select among those approved by them.
Why wet food is a more popular choice?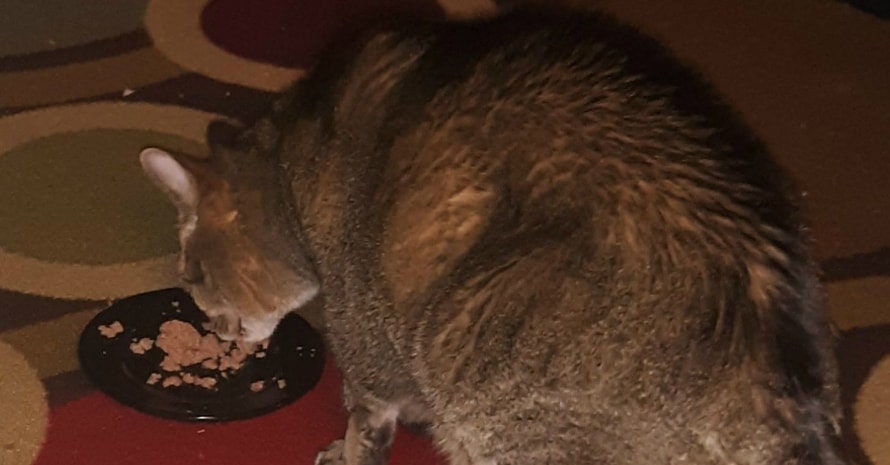 Well, most pet owners prefer wet food for their kittens, and there's a reason for that. Unlike a big grown cat, a small kitten is easier to feed with wet food. It takes one can or one pouch to keep the kitten full for an entire day. It's usually tastier and not demanding available water to be digested (though you still need to leave enough water for your pet).
In addition, wet food is easier to handle. Now you can even give it to the kitten while absent for several days due to automatic cat feeders that support both dry and wet foods. Some of them are even equipped with fridge features, so you can be sure the food remains fresh all the time you're away.
Food for kittens and for adult cats: what's the difference?
The main difference between adult and kitten food lies in the fact that a growing kitten requires more proteins and vitamins than a grown cat – simply because it takes energy and proteins to grow muscles. As well it takes more calcium to build up bones, more vitamins to support health, more antioxidants for the immune system – more of everything useful. It can't be achieved through just eating more because a kitten's stomach is smaller.
Texture also matters. The kitten's teeth are not so strong yet to chew hard foods like the adult does to the game's bones. So the food should be softer and more tender, like medleys or loaves.
To emulate wildlife changes in felines' diet, kitten foods try to emulate mother's milk, while adult cat foods emulate the game cats can hunt in the wild. Some manufacturers support their game by splitting the kittenship into two periods – the first stage (from the birth to 4 months) and the second (from 4 to 12 months). A one-year-old cat is usually quite a grown one.
What kitten food do vets recommend?
While all the foods reviewed above are certified and found safe enough to sell in the US, vets still can select the best ones from them. The rule is still working: the one considered the best-wet food is the one by Hill's that tops our list. Among the dry foods, vets recommend the Wilderness series by Blue. This choice is especially important when you select the kitten food for sensitive stomachs or allergic kittens. Still, I emphasize that any of the foods above will work well on a healthy cat with no health issues.
What is the healthiest kitten food?
The best cat food for kittens is, of course, a healthy mother's milk. But when these furry babies are taken away from their mothers, they need to be treated with something similar – and something natural.
So try to pick the food that contains no fillers at all. If you have to select the most budget option that usually contains this or that filler, you better search for foods using tapioca as a filler. A diabetic cat will suffer from high carbohydrates, so avoid corn or wheat at all.
Which wet kitten food is the best?
The general rule remains true when it comes to wet food. Stay natural, stay healthy, keep away from fillers, artificial flavors, and colors. Luckily, there are more than enough foods that comply with that. The aforementioned sort by Hill's is still the greatest option, but there are others as well. For example, ones by Instinct or Royal Canin are quite decent. I would recommend them for any breed unless you want something specific.
Before Going to your Kitt-Chen
So, while my undisputed favorite is the one by Hill's (and by Instinct when it comes to dry foods), the final decision is to be made by your kittens. They may have their reasons to go crazy about one sort of food and completely ignore another. You may consider their choice inferior, but you cannot make them eat what they do not want.
But our little balls of fur deserve the best, remember that. So treat them with the best, and then let them choose what they like the most. You don't have to stick to the sorts I have listed above; just follow the simple rules. Watch what they prefer and how they react, watch how their activity level changes. Also, consider how their fur reacts to this or that sort of food, how their stool changes with changing the food, and make your conclusions.
And what do your kittens prefer? What do they like or dislike, what makes them healthier, or vice versa? Let's give them the mic and hear them speak via their humans. Right here, in the comments. Not sure whether cats control the Internet, but on this page, they're welcome.
Last update on 2022-08-11 / Affiliate links / Images from Amazon Product Advertising API