What we love about cats is more than fur, purr, and never borrr. Imagine your cat right now! Sure, you will visualize it rubbing against your feet, getting itself comfortable on your chest when in bed, or biting your hand gently, inviting you to play. Self-sufficient, cats are always up for fun.
Pros
Safe materials and size for cats and kittens
Built-in hanging mini toys
Top Pick
Pros
Safe materials and size for cats and kittens
Runner-Up
Pros
Built-in hanging mini toys
So, if you leave your cat home alone, you must care that it doesn't suffer from boredom. The best toys for cats home alone can vary, but they all need to provide enough tactility for a sensitive cat. The toy considered the best by both my cats and me is an entire set of toys, but you don't have to choose only one.
8 Best Toys for Cats to Play While You Are Away
It's hard to compare these self-entertaining cat toys directly because they are very different. So brief reviews will provide the basic information. And it's up to you to select which one is the best for your cats, as you know them better than anyone else.
1. HIPIPET 21Pcs Cat Toys Interactive: Top Pick
I could not find the official site of this vendor. Maybe, it's not large enough to have its website, because of very few titles delivered. But this one is more than just a title: it's a set of 21 toys for cats, for such a minor price and offering a lot of fun to both adult cats and kittens.
The pack contains all the traditional self play cat toys. There are balls that roll on their own when touched with paws. There are wheeled mice that run almost like real ones. There are column bell toys and crinkle toys.
Finally, there is a cat tunnel (most cats adore tunnels) and a teased wand for the moments you get home and can devote a minute or two to playing with your cat.
PROS:
Lots of items to keep a cat busy
Safe materials and size for cats and kittens
Can be played by more than one animal
Affordable price
CONS:
They get lost easily
Little is known about the vendor
2. Prosper Pet Cat Tunnel: Runner Up
Well, this manufacturer is also obscure, despite its goods found on both Amazon and Walmart, and more minor stores. Nevertheless, it makes one of the most popular entertaining devices for cats that they adore both when alone and when humans are watching.
The three-tube tunnel for cats is where they like to squeeze through (if they are not too fat or too furry for that). But, given its height of 10 inches, it must be a very exceptional cat not to fit through. Unless you have a large one, it's one of the best cat toys for when you're gone.
The tunnels are collapsible, made of durable polyester, so you can take it wherever your cat follows you. There are built-in toys like a ball or crackle paper hanging at the entrance of each tunnel; this toy is lots of fun. Not only is it good for cats, but also for puppies and rabbits. Still, it's the cats that adore boxes and tunnels the most.
PROS:
Built-in hanging mini toys
Diameter suits most cats
Durable polyester
Collapsible construction
Very affordable
CONS:
Hanging toys can be dangerous
Needs attention to be kept in shape
3. Ralthy Interactive Robotic Self-Rotating Ball: Premium Pick
No products found.
And here is the first item not by a pet-focused vendor but by one that's specializing in electronics. I couldn't find its website or any official info either, but I learned that Ralthy also produces alternative controllers for Nintendo Switch. The brand is into cat games as well.
The device we see is a battery-powered wheeled bot with a feather (a bird or a mouse) attached to it. Charge it using a built-in USB port, and the ball will start rolling around, teasing the cat with the attachment. It's hard to find a cat able to resist that. Mine truly adored that.
If cats had their own Star Wars, this would have been their BB-8. It can only work for 3-4 hours, but it can wake up for 10 minutes after a 90-minute break. These self-activated cat toys can entertain the cat for the whole day.
PROS:
Irresistible to cats
Interesting for humans as well
A real hi-tech thing
Sage LED lighting
CONS:
Almost useless when it runs out
It can snap and hurt a careless cat
4. Ethical Wide Colorful Springs: Simple Self Play Cat Toys
Finally, there is a vendor that one can easily google! Ethical Pet has been operating since 2015 and has lots of products for cats and dogs. (Though they are made in China, that's okay by now). This is a simple springy cat toy that seems one of the most attractive ones for cats since they were introduced. The construction makes them react when touched, so cats really perceive them as something living.
Despite being that simple, they have a lot of advantages. They are durable and hard to damage. The springs fluoresce that makes them easier to find at night. They are so lightweight that they make almost no noise. Given that cats are nocturnal creatures, these features are necessary for a perfect night cat toy. Tons of fun, very little noise. Last but not least, a set of ten springies is very affordable.
PROS:
Lightweight and almost silent
More durable than expected
Real fun for cats as they react
Ten toys in a pack
CONS:
They get lost easily
The edges are sharp; you may need to bend them
5. UPSKY Cat Toy Roller: Toys That Move on Their Own
UPSKY is probably a Chinese manufacturer (given that instead of its official site, I have found its official store on AliExpress, an enormous
Chinese online marketplace). It's quite popular across the Pacific, too, and its toys for cats are worth this. The roller I review has three levels where balls can roll around. A cat can move them with its paw and watch them roll.
While a cat has little chance of disassembling the construction, it's easy for its human. You can remove layer by layer to clean them or replace balls. By the way, it comes with extra balls you can give to the cat to play alone while you are away.
PROS:
Durable construction
Cats get really hypnotized by it
Two cats can play it together
Easy to wash and clean
Affordable price
CONS:
The cat's interest may expire soon
The toy may be quite noisy when played
6. Pawzone Interactive Cat Toys Roller: Wheeled Springy Teasing Prey
Again, there is a manufacturer rarely heard of outside Amazon. Examining the item itself gives no idea of where it was manufactured. The toy itself, though, seems way more versatile than the previous one. It combines rolling balls with springs that can keep a cat busy for quite a long time.
The entire secret is about interactivity (hence the name): if a thing reacts when a cat touches it, well, it's a toy.
As for this roller, there are both balls to roll and mice on springs to rock. More than that: it can be a water dispenser, and a cat can drink from it. The elements of the toy are aromatized with catnip, making it even more attractive for any feline creature. Big enough for several cats, it replaces multiple toys for cats to play alone, which you would have needed otherwise.
PROS:
Various toys combined in one
Can be used as a water dispenser
Several kittens can play it together
Looks good
Hard to move
CONS:
Manufacturer location unknown
Replacement springs are not offered
7. Yvelife Cat Laser Toy: Cat Toys with a Moving Red Dot
Cats love lasers; that's an axiom that turns out true for most cat owners. Scientists agree: it's because of their predator genes. It's a great pleasure to turn on your laser pointer and watch the cat follow the red spot crazily.
Yvelife offers a device that does the job automatically, turning on and off while you are away. It takes little power, so you can connect it to an adapter with a USB cable or use standard batteries to power it.
Along with the fun, this thing is one of the best cat toys to keep them busy because it can keep your cat fit. It's especially necessary when it's sterilized (being not completely him or her, but an undisputable it). The greater radius you select in the adjustments, the more workout the animal gets while pursuing the spot.
You need to be careful, though, and position the device high enough outside of the cat's reach. Given how great cats are at climbing, it's quite a puzzle.
PROS:
Controls the laser automatically
Can be charged with USB or use AA batteries
Supports automatic activation every 3 hours
Adjustable range
Hi-tech feel (for humans)
CONS:
Lasers are dangerous (to some extent)
Needs to be placed with care
8. Cat Amazing Interactive Treat Maze & Puzzle Feeder: For the Smartest
Cat entertainment toys can turn into mind trainers when cats are required to solve some puzzles and get a satisfactory reward for that. This one is just what you could expect. It combines a feeder (so you don't have to feed your cats separately) and a game, a puzzle they need to solve to get their food accessible.
It's fun to see your cat (or cats) trying to get the piece of catnip, meat, or even dry cat food out of this box. But it's not enough to keep them entertained for long. You will certainly need other toys. So it is, by the way, with other items.
PROS:
Makes a great combo with other toys
Makes the cat smarter
Good for two or even three cats
Made of durable cardboard
CONS:
Cats may want other toys
Lazy cats will possibly ignore it
The bottom is too easy to move around
Toys for Cats Home Alone Buyer's Guide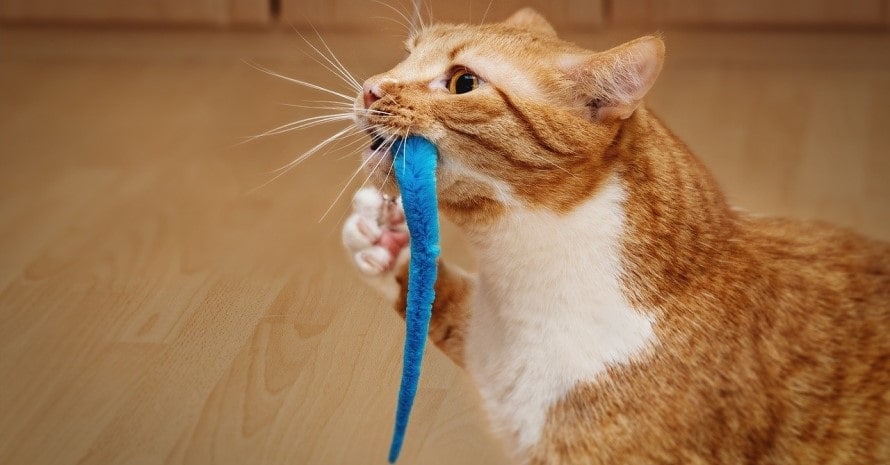 Here is some instruction on how to understand your cat is in need of fun. All in all, having fun is what our cats can teach any human party animal.
Along with toys: How else to entertain a cat alone
While most of their time cats sleep, they need to move and play. All these toys for bored cats are a great invention that keeps them active and cheerful. Cat toys that move on their own are an indisputably great pleasure, as they get a cat tracing and chasing them, like a hunter. But a responding toy (like a springy one) can provide hours of fun too.
However, you can also see your cat watch fishes in an aquarium, programs on TV, or even shadows of the tree at your window, or the leaves moved by the wind. Any motion gets a cat interested. And no wonder: it's potential prey. Your cat may be nice and cute, well-fed, and never aggressive, but its predator genes define what sorts of fun it prefers. And it's mostly chasing.
What can be made of paper
Making a paper mouse has always been an art for pet owners, especially for cat types. A great way to make an interactive toy is to smash a sheet of paper and tie it with a thread in the middle, so it resembles a butterfly. A cat is ready to chase it as long as you control it.
Hardly is there any need to make origami masterpieces for your cat. What it cares about are motion and mouse-like size.
Feeding the cat while you are away
Along with toys that contain some food (like our #8), there are automatic cat feeders. The simplest ones just have reservoirs for water and dry food that add new portions as the cat eats or drinks what's below.
More advanced ones offer several sections for food, opening one a day. If they have refrigerating features, they are good for wet food as well. You can even record your voice to call up the cat when the section opens. The most advanced models are even equipped with a camera and a mic!
Toys for Cats FAQ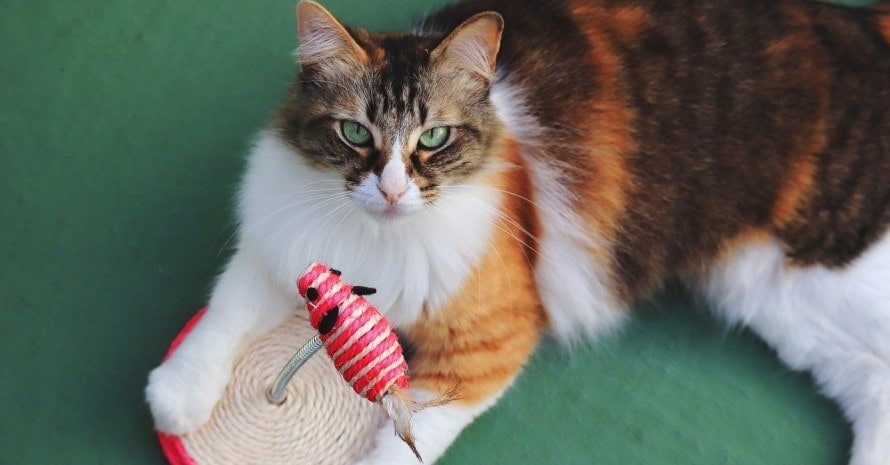 This set of reviews doesn't cover all the existing toys. There are many ones left overboard, even quite decent ones. So here are some recommendations on choosing toys for cats (ignoring the fact that a good cat can make a toy out of anything).
How do I keep my indoor cat entertained?
All these toys will help with that. But why do cats need attention? To feel some emotional bond. So play with your pet in person, at least sometimes. You can take your cat out for a walk sometimes, on a special cat leash, and with a special harness. But it's not as necessary as it is for dogs.
How do I keep my cat entertained while I'm at work?
It usually takes hours until you return. If there's no one at home during these hours, any responding toy will do. You can alternate them to keep the cat's interest.
Do cats get bored at home alone?
Of course, they do. You might have seen a cat meeting you at the door as you return home. And it's not only because of hunger or thirst.
Scientists agree that cats really like humans – you, in particular. They really want to see you and rub against you. Given some toys cats can play with by themselves, they will take it easier.
Are cats OK alone during the day?
Cats are quite self-sufficient, so, when well-fed and entertained, they are quite okay alone.
Toys R Cats
So, it depends on your cat, which toy will be its favorite. There are many toys beyond that, including cat-entertaining robots! But you never know unless you try. Given more than affordable prices (probably you spend more on feeding your cat in a week), you can buy two or three toys of different types and see which one entertains your cat the best.
Which of them have you tried? These exact items, or their likes? Did your pets love your choice? How did they express their joy? Maybe you even have photos or videos? I'd like to read from you in the comments. Cat stories are always fun.
Last update on 2022-06-26 / Affiliate links / Images from Amazon Product Advertising API