If you are a lucky kitten owner (or you own several after your kitty brought you a meowing gift), you may already see an inspiring picture of kittens playing all over the room. The juniors themselves are always up for it. But what are the best kitten toys to provide them with?
It's well-known that cats are predators, and in the wild, they mostly use living prey as a toy. With all respect to nature, though, you would hardly like to see your cute and nice kitten having fun with an exhausted half-dead mouse. Luckily, today's industry offers alternatives that look and smell way better for civilized humans.
Pros
Fun for both kittens and adult cats
Helps fat cats eat slower
Great for several kittens and even adult cats
Top Pick
Pros
Fun for both kittens and adult cats
Runner-Up
Pros
Helps fat cats eat slower
Premium Option
Pros
Great for several kittens and even adult cats
All the cat toys for kittens below are different and not interchangeable. Though my (and my furries') favorite is the Petstages Circle Track with Moving Balls as it provides fun and motion being quite static itself, other toys are just as attractive.
What I avoided deliberately was laser-based toys: they may be too dangerous for the young eyes. Still, there are electronic devices, as well as purely mechanical. Frankly speaking, one doesn't have to be a kitten to enjoy such brilliant things.
7 Best Toys for Kittens to Buy Now
1. Petstages Circle Track with Moving Balls – Top Pick
2. Catit Senses 2.0 Digger – Runner-Up
3. SnugglyCat Cat Activity Play Mat – Place to Eat and Play
4. Cat Toy with Scratching Pads and Jingly Balls – Feline Puzzle
5. Yeowww! Yellow Banana Catnip Toy – Kitten Chew Toys
6. Prosper Pet 3-Way Cat Tunnel – For Babies and Adults
7. Pakoo Motion Ball – Interactive Kitten Toys
1. Petstages Circle Track with Moving Balls – Top Pick
Little is known about Petstages as a brand. It belongs to the Outward Hound family, of which we know just as much. It specializes in toys for pets, and that's for sure. The circle track with moving balls is exactly what it says on the tin: a multilevel pyramidal station with balls a cat can roll around it. The balls stay in their grooves but attract the cats by their immediate response.
It efficiently solves one of the problems with toys for kittens to play with: if they are small enough, they get lost sooner or later. Circle Track doesn't, due to both its size and a non-slip base. Neither do the balls the kittens run along its grooves unless you take them out. In addition, it attracts adult cats as well.
PROS:
Fun for both kittens and adult cats
Several cats can play simultaneously
Great fun to watch them play
You can upload videos to your TikTok or YouTube
CONS:
The manufacturer is not well-known
The toy is quite noisy
2. Catit Senses 2.0 Digger – Runner-Up
It's a combination of a toy and a feeder. You probably know that the best sort of game is the one with sufficient motivation. A hungry cat will get very motivated by this one. It will take both wit and effort to get the food out of these bowls, but there is nothing impossible. If your cats easily put the food out, you can use another bowl that is harder to master.
Not only is this toy a practical choice. It's also great if your cat is overeating and needs to slow down the pace, while moving more. This concerns sterilized cats primarily, but not only. Last but not least: watching a cat fishing for the food there is real fun, especially when, after a long brooding, it switches to action mode!
PROS:
Both a toy and a utility
Helps fat cats eat slower
Helps kitten get smarter
Makes a great show to watch
Different difficulty levels
CONS:
Should be only placed where the cats eat
Doesn't work with too lazy or delinquent cats
3. SnugglyCat Cat Activity Play Mat – Place to Eat and Play
Don't expect me to tell a lot about the brand; let's get to the toy itself. This play mat is made to create situations for the kittens where they need to struggle to get out. But the material is so soft and durable that this struggle becomes just a game. Anyway, cats like to get themselves trapped in cellophane bags or even newspapers; this one is a better version of these.
Better means that kittens have a lot of holes to put their paws, heads, or even tails through. They can also use this mat as a warm place to sleep, and often they do. As the mat is really big, it can be a playground for several kittens at once. Some may even refuse to leave it… unless you offer another funny toy.
PROS:
Helps kitten coordinate their moves
Great for several kittens and even adult cats
Really big enough for that
Can't harm either a cat or itself
Helps create funny struggle videos
CONS:
Cats can make it a complete mess
Loses form quickly when used heavily
4. Cat Toy with Scratching Pads and Jingly Balls – Feline Puzzle
Well, it's another puzzle by an unknown manufacturer (are there any others at all?), but cats don't seem to care. This puzzle features balls cats can push around again. Unlike one by Petstages, though, this is a one-level, almost closed toy that also encourages cats to push the balls and run around after them. If you're looking for safe kitten toys, this is one.
This toy delivers a lot of fun to both cats and humans watching it. Two cats can play with it simultaneously. On the other hand, like other ball games, this one can get too noisy.
I don't recommend placing this item in your bedroom. It will make a feline stadium elsewhere, though, if your kittens like it. Which is never granted. To avoid getting used to it, you better give it to your cats two or three times a week.
PROS:
Sturdy build
Keeps a kitten busy for long
No balls or spare parts to get lost
Very affordable
CONS:
Noisy enough when played heavily
The cardboard won't last if often bitten
5. Yeowww! Yellow Banana Catnip Toy – Kitten Chew Toys
This is probably the simplest toy for a cat. An artificial banana filled with catnip is as great as kitten chew toys get. Yellow and natural size, it's easy to notice and hard to lose. Well made, it's hard to break (though an insistent kitten may do it with some effort).
Adult cats, though, are stronger, so their claws and teeth are a danger to it. If you use a tougher thread to resow it, though, this isn't as much of a problem.
The pack contains two pieces, so you can throw one at your kitten and keep another hidden. Or give them two if there is a whole pack in your house. But purchase extra ones, or get yourself a needle and a mile or two of yellow thread. And be careful when your kitten is overexcited after playing with it.
PROS:
Good for one or several kittens
Durable against them
Filled with attractive catnip
Two pieces in the pack
CONS:
An adult cat can tear it apart
Other toys still needed
6. Prosper Pet 3-Way Cat Tunnel – For Babies and Adults
This one by Prosper Pet is among the top kitten toys, loved by adult cats as well. Cats rarely suffer from claustrophobia; on the contrary, they adore boxes, bags, and other protected places. The polyester tunnel with three ways in and a hole in the middle will provide a lot of fun and minimum problems. It has hanging toys on its entrances, providing even more fun.
Not only will the kittens play with it, but just lie down and sleep there as well. It's one of the best ways how to entertain a kitten within a room.
It's easy to carry with you if you're taking your kittens out for a trip. You can also collapse and hide it somewhere if you don't want your kittens to get used to it. Alas, it will start losing its shape within two or three months if played with heavily. So buy two or three, or limit the time your kittens spend with it.
PROS:
Great for kitten and adult cats
Durable materials are hard to tear
Built-in hanging mini toys
Available in different colors
CONS:
The hanging toys need attention
The tunnel loses its shape quickly
7. Pakoo Motion Ball – Interactive Kitten Toys
It's the XXI century, the time to get yourself interactive kitten toys. This one is irreplaceable if you have to leave your cats alone when working or whatever. If you have seen your cat watching your Roomba or even trying to ride it, be sure that this interactive ball will provide even more joy.
The comparison is correct: the ball moves through the room and avoids obstacles the same way a robotic vacuum does. It's one of the most fun kitten toys, even for humans.
As you leave, the toy will periodically start and then take a 40-minute rest to avoid getting the kitten too used to it. Just don't forget to charge it regularly. The ball has a standard USB port on it, charging from most compatible cables.
PROS:
A lot of fun for cats and humans
Keeps the cat moving and fit
Hi-tech style and high autonomy
Stops and starts to get the cat's attention
Moves well on most surfaces
CONS:
May need some reworking to gain a kitten's interest
Does not move on thick carpets
FAQ on Kitten Toys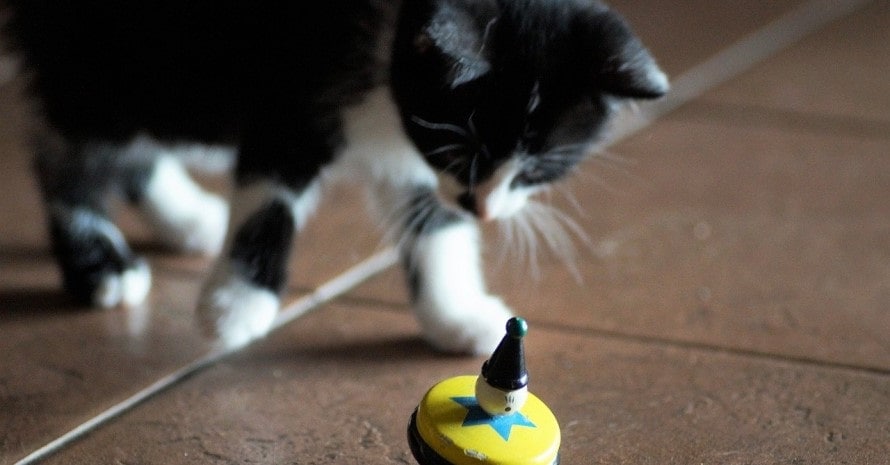 So, here are seven various toys that aren't much alike. Almost as different as human children's toys are, they deliver fun to both kittens and their humans.
What kind of toys do kittens like to play with?
Kittens like to play with anything that moves, including their own tails. Well, the best kitten play toys are those showing a little interactivity. At least, a toy should respond when touched or moved by a kitten. It should look like it's alive. The only toys reviewed above that aren't this sort are tunnels. But, anyway, they also have little hanging balls that react when touched with a paw.
Can a kitten be left alone during the day?
Yes, even if you have a single kitten, you can keep it fed and entertained all day. Good toys for kittens are those they don't get used to. A catnip-filled banana is great if not given every day. A robotic ball is great as it goes to sleep after a running session. If you have some of these toys, don't worry: the kitten won't be bored. But still, you need to pay attention because kittens and their humans form a mother-and-baby sort of bonds.
How many toys do kittens need?
As you might have seen, no two toys from the list above are the same (and I didn't mention, say, a single purring kitten toy that imitates a mother cat!) So the answer is, the more, the better.
Kittens Are Made for Joy
Diversity is the word. Baby kitten toys are very different, and many of them are just as great for adult cats. So I recommend you just two things. First: get more than one toy for your kitten and don't give out all of them at once. Second: look at what your kittens prefer, and try to give them other versions of that experience.
And what do your junior cats like? What best kitten toys would you recommend? Any funny stories or videos with them playing? Share your stories (and maybe photos and videos) in the comments. It will make a great chat! And I hope to learn something for my cats too.
Last update on 2022-06-26 / Affiliate links / Images from Amazon Product Advertising API