If your kitty has celebrated the 10th birthday recently, then it's time to switch to a new diet plan. They become less active, their metabolism slows, and certain health issues appear at this age.
The best cat food for older cats can help reverse some of the aging effects. Here's how it works:
Weight. Such food contains fewer calories, so the less energetic animal won't gain extra weight.
Vitamins. The best senior cat food is all about healthy supplements. Vitamins E, B as well as proteins strengthen the immune system of the cat.
Chewing. As cats get older, they often lose teeth and require particular types of food for bad teeth. Senior feline food has specially designed kibbles that make chewing easier. And broth/mousse food doesn't even require teeth.
Regulated minerals. At a certain age, cats may build up an excess of certain microelements in their bodies — phosphorus excess is a common issue. Older cat food cuts their amount not to worsen the health condition of your buddy.
Impressive vitamin variety
Top Pick
Impressive vitamin variety
With all that in mind, I've prepared my top 7 picks of the best cat food for older cats. They offer different flavors — from salmon to pork. They are rich with all the important vitamins. And, most importantly, kitties seem to adore these.
7 Best Cat Food Products for Senior Cats Reviewed
And now, the menu designed specifically for the fussy four-legged eaters. Here we have flavors to satisfy every whiskery gourmet.
1. Purina Pro Plan Focus — Best Canned Cat Food for Older Cats
My top pick, this Purina product, is the best wet cat food for older cats. This is an entrée made of innards and a filet of salmon and tuna. After opening the can, you can smell a strong fish odor that instantly attracts any cat in the 300-meter radius.
This wet formula is perfect for cats with allergies, stomach ache, inconsistent stool, and hardened digestion. It is possible due to the secret component — chicory.
Known as a caffeine-free substitute for coffee, chicory is also rich with fiber. If your kitty has a bloated, gassy stomach and tends to often puke after a meal, this entrée can be a life-saver.
To slow down degradation of bone and muscle tissues that come with age, this chow is enriched with all necessary vitamins and minerals. Riboflavin, potassium, niacin, vitamin A are among the others.
Kitties put on this diet tend to become more energetic and adventurous. And even if your tabby is already a veteran, this top-rated senior wet cat food will restart its engines.

PROS:
Impressive vitamin variety;
Goes well with problematic eaters;
Evokes a healthy appetite;
Revitalizes older cats;
Nice salmon smell.
2. Royal Canin Feline Aging 12+ — Second Best Cat Food for Senior Cats
Runner-up in our gastronomic marathon, Royal Canin will spoil your old soldier with tasty bacon soaked in gravy. What sounds like a Christmas feast is actually a smartly balanced ration of natural fats and proteins.
Another nice element is glucosamine. It's a supplement that is responsible for healthy joints. So, if your kitty always were an active troublemaker, this meal would reverse the deterioration of its joints.
It also suits ideally for cats with bad kidneys and cats that have to stick to a low-phosphorus diet. In both cases, animals tend to show a lethargic behavior: you won't even hear them purr.
So, this tasty pork is to them what sunlight is to blanket flowers. Old and sick cats fed with Loaf in Sauce often display enthusiasm, playfulness, and satisfaction. The improved digestion greatly influences their mood; it turns!

PROS:
Low-phosphorus formula;
Natural bacon;
More meat than gravy;
Vitamin supplements;
Great for sick cats.
CONS:
Recommended for 12+ cats.
3. Blue Buffalo BLUE for Cats — Best Dry Cat Food for Senior Cats
Crunchies from Blue Buffalo are worth your attention mostly because they seem to melt the hearts of the most persnickety cats. Its combination of both mouth-watering chicken fragrance and dry but not tough-to-chew texture seems to satisfy picky felines.
The 7-pound bag is stuffed with tiny biscuits made from chicken and brown rice. And natural meat, in combination with the fiber-rich grains, means better digestion and no tummy problems for your fluffster.
It's also rich with vitamins that strengthen the vision and cardiovascular system of your retired hunter. The main component here is taurine, which benignly affects the nervous system, heart, bone tissue, and eyes.
The cat's coat also seems to improve thanks to Blue Buffalo. As practice shows, cats lose hair much less intensely, and their fluff becomes plushier and more glistening.

PROS:
Rich with healthy fiber;
Chicken is the main component;
Good for picky cats;
Normalizes digestion;
Improves sleep.
CONS:
May not go well with some cats.
4. Iams Proactive Health Senior Dry Cat Food — Rejuvenating Food
Iams Proactive is almost like a youth elixir to cats of 10 years or older. So, what's the formula behind its time-reversing magic?
As the main flavor, we have chicken filet here. This can already arouse interest in your feline. Together with the delicious meat, your kitty-cat will get a whole repertoire of vitamins, acids, and minerals:
Biotin;
Fish Oil;
Potassium;
Ascorbic Acid;
Calcium Carbonate, etc.
The side ingredients include dried beetroot, corn grits, eggs, yeast, etc. This gastronomic bouquet is intended to keep the tabby's tummy working like clockwork thanks to the abundant fiber.
In the long run, this mature cat food will give your pet a softer and lusher coat. Cats dealing with frequent throwing up previously show a better eating routine after trying Iams Proactive.
But here're two sidenotes. Your cat must get plenty of water with it, as its kibbles have a quite dry texture. Second, it may not suit every single cat, especially one suffering from constipation.

PROS:
Chicken flavor;
Most cats find it delicious;
Fixes coat problems;
Solves the vomiting problem;
Works great as a reward snack too.
CONS:
Not good for cats with constipation.
5. Purina Fancy Feast Pate — Delicate Liquid Cat Food for Older Cats
Purina Fancy Feast was seemingly designed for aristocratic cats. Here we have beef slices generously soaked in the nutritious gravy. And it seems to attract favorable attention from quite finicky cats.
Fancy Feast, apart from having a distinct beef odor, can boast of a rich repertoire of microelements. Apart from taurine, we have a strong dosage of calcium, a cluster of B vitamins, potassium, and even guar gum.
When put together, these elements are benevolent for the kitty's immune system. As a result, good mood, energy, and life joy will become your fluffy pal's all-time companions.
However, you must be warned. This particular Fancy Feast also contains chicken and fish. And since some cats are allergic to fish (and other seafood), their invitations to this feast must be recalled.

PROS:
Beef meat for energetic cats;
Rich variety of vitamins;
Antioxidants;
Bearable smell;
Works for fussy eaters.
CONS:
May cause allergy due to fish components.
6. Hartz Lickable Wet Cat Treats — Top Rated Senior Cat Food at a Low Price
Harts Lickable is rather a budget solution. But still, it is a good meal to put on your senior kitty's table. This meal includes a chicken and tuna combo, which every whiskery food critic would be affectionate about.
I recommend this wet meal as a solution in two cases. First, if your fluffy veteran suffers from constipation, Hartz Lickable has a good chance to solve the problem. Second, if your kitty has lost teeth due to aging, this nutritious mousse is a great way to support it.
On the menu, we have all the vital elements: fats, proteins, thiamine, pyridoxine, fiber, vitamin E, etc. Such a nice nutrient balance, delicious taste, and availability make it a worthy choice.

PROS:
Rich with nutrients;
Works for constipated cats;
Good for sensitive stomachs;
Requires little chewing;
Affordable.
CONS:
Can trigger light diarrhea.
7. Purina Friskies Lil' Soups — For Troubled Tummies
Our final dish, Purina Lil' Soups is a nice complement to any ration. It's a tuna broth with the addition of chicken. It doesn't smell that nice, but cats seem to appreciate it, even if they are really spoiled.
We have a good portion of tapioca starch and cellulose here. These are the thickening agents that won't let the soupy diet hurt the fluffy tummy. And other vital supplements like vitamin E and thiamine are also present.
Odds are, your cat will literally chug it and ask for more. So, I recommend this soup as the sole food choice only if your cat lacks teeth and can't handle solid meals. Also, be careful and open the bowl slowly, not to soil your clothes.

PROS:
Cats seem to enjoy it;
A worthy substitute for dry food;
Rich in nutrients;
Helps gain a bit of weight.
Cat Food for Older Cats Buyer's Guide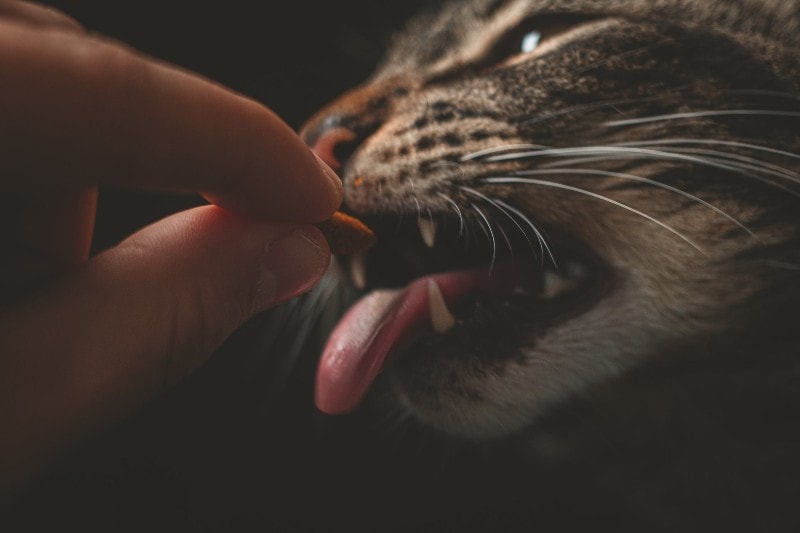 Now, let's see what you should consider before buying food for your old-timer.
Ingredients
Note which flavors your cat prefers and which health issues it has (if any). Constipated cats should get no dry food at all, though some cats with digestion issues need plenty of fiber that comes from brown rice, corn, dried beets, etc.
If your kitty-cat displays certain symptoms — weakened eye vision, arthritis, diarrhea, agitation, etc. — foods with or without certain elements can help solve the issues. But a vet's advice is a must in this case.
Note: According to AAFCO, animal food should contain 95% of its main ingredient: turkey, pork, chicken, etc. For entrée, pate, dinner, and other similar foods, it's only 25%. And if there's a "with" in the title, like "with beef," then there will be only 3% of it.
Dry vs. Wet
Wet food is good for solving possible kidney and urinary tract problems as well as retaining healthy weight and avoiding constipation. At the same time, excess of it can make your kitty rush to the litter box a bit more often than it's necessary.
Dry food contains just 10% of moisture. But it's rich with carbohydrates and allows your cat to get plenty of calories quickly. Plus, it can work as an anti-diarrhea remedy.
The elderly cat food must be carefully balanced. At this age, feline tummies become especially sensitive, and, ideally, you should treat your kitty with both to avoid digestive and urinary problems.
Full meal & Snacks
Cats are hunters. Small in size, but ferocious in their temper. Their game would normally include rodents, small birds, sometimes lizards, bugs, etc.
This is why they have developed a habit of eating their food in small portions throughout the day. So, ideally, you should divide your kitty's daily meal into chunk-sized portions with an overall calorie intake of about 24-35 calories per pound.
Food for indoors & outdoors cats
Both cat types are actually identical. The only difference is that outdoors cats need more calories due to their adventurous lifestyle. Indoor formulas are designed to maintain a healthy weight and also avoid the hairball problem.
Cat Food for Senior Cats FAQ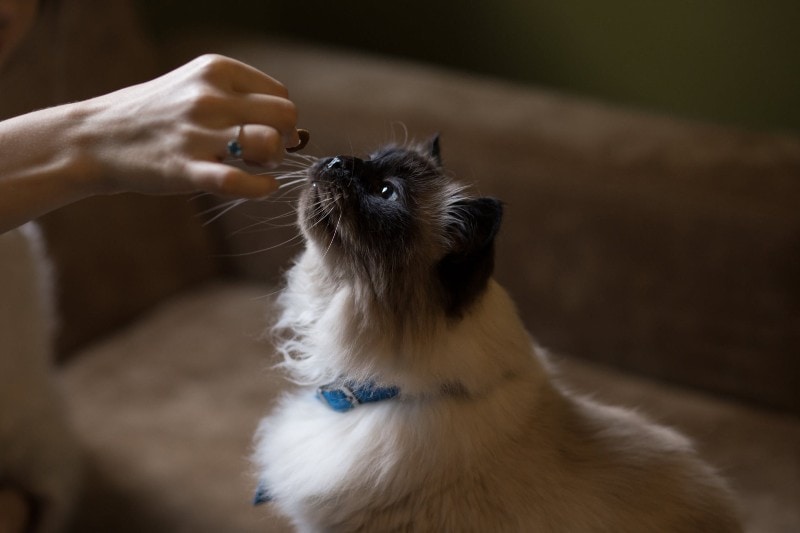 And now a few popular topics regarding the senior cat food. Let's see why and when older cats need it.
Do older cats need special food?
As I've said, yes. Older cats can gain/lose weight abnormally and experience bone and muscle degradation. Senior cat food can prevent this and other serious health problems in the future.
When should I switch my cat to a senior diet?
Traditionally, a 10 or 11-year-old can be put on a senior diet plan. Even if the animal feels great, aging still takes its toll invisibly.
What is considered old age for a cat?
Usually, cats turn senior at the age of 10 — it's like 53 human years.
Is wet cat food good for older cats?
Yes, especially if a cat has dental problems. However, every diet must be balanced.
The Fed Cat Society
Hopefully, my senior cat food reviews will help you choose the right and healthy diet for your friend. Listen to your kitty's culinary desires, consider its health condition at the moment, and stock up on delicious meals.
What does your old furry friend enjoy eating the most? Which cat food makes your pet polish the plate? Tell us in the comments!
Last update on 2022-06-26 / Affiliate links / Images from Amazon Product Advertising API