Cats are born hunters who love to get a breath of fresh air and explore what's behind your front door. Still, these balls of fur are no big fans of rainy weather and other elements. Wet, damp, and windy conditions can all harm our little companions, so it should be our priority to keep them warm and comfy when sunny days are few.
Whether you are human to a bunch of felines or temporarily hosting wary strays that happen to be passing by during the winter, outdoor houses for multiple cats can solve a lot of climate-related problems. They offer shadow when it's hot and open up their warm interiors to those freezing.
Pros
Easy to clean due to a detachable bottom
Top Pick
Pros
Easy to clean due to a detachable bottom
Most importantly, a well-designed cat house can give the animal a sense of privacy and security as cats need a safe space where they can observe what's going on without being seen.
Choosing an outdoor pet house that's both welcoming and efficient in terms of weatherproofing can be a challenge. This is why we've made a list of ten great models. Jump to our absolute favorite if you are short of time, or check Buyer's Guide First to make an informed decision.
10 Best Cat Houses for the Great Outdoors
We have researched the outdoor cat house market and picked 1 winner + 9 excellent alternatives to shelter a pack of felines. While the models below are all quality products, you might prefer this or that option because of your particular situation and the climate in your area. Feel free to choose the best for your kitties!
1. Petsfit Weatherproof Outdoor Cat Shelter: The Best Outside Cat House Overall
The first thing you notice about this cat house is its cute rustic design that reminds of a country cottage. There's even a tiny flowerbed attached to the side! It's not all about the good looks, though.
The structure is designed to prevent rainwater from getting inside, which is critical because feline fur loses its insulating ability when wet, compromising the animal's thermoregulation. This is achieved through tall legs that raise the bottom above the ground. A step is included to make it easier for the cats to get inside.
The elongated interior measures 27.5 x 17. 5 x 20 inches, which is enough for three cuddle-loving kitties or two anti-social ones. Cats can even sit up inside because it has a taller-than-average roof. With a weight of just over 40 pounds, the structure is sturdy enough not to shake when the cats walk marching in but still easily portable.
The roof isn't detachable, which is good news because it means less weather-related risk and less challenging assembly. In fact, this house is fool-proof in terms of installation and comes with all the hardware needed. Cleaning this house is a breeze due to the detachable bottom.
Two doors are included, one in the front with no flap but with a sweet-looking awning to keep it dry in rainy weather and one in the back, complete with a plastic flap to keep the warmth in.
Made of natural cedarwood, this cat/small dog house is painted with non-hazardous paint to prevent it from rotting. There's nothing about this house to poison your pet.
Please mind that it is not meant to withstand tropical rains or freezing cold. Rather, it is the perfect solution for a moderate climate that won't get too hot in the warm months. It can be further weatherproofed with an aftermarket front door flap, appropriate insulation, and/or a heating pad (there's a hole pre-drilled for the wire), though.
The only fault we've found with this product is the paw-shaped cutouts in the walls, undeniably adorable but otherwise a bad idea because occasional raindrops can get inside through them when it's windy.

PROS:
Cute design;
Made of natural wood with non-hazardous paint;
Easy to setup;
Easy to clean due to a detachable bottom;
Roomy.
CONS:
Might require aftermarket weatherproofing in extreme climate.
2. PawHut 2-Story Indoor/Outdoor Wooden Cat House: Runner-Up
This PawHut shelter is a true cat mansion that will add a lot of style to your backyard. Its two-tier design is likely to encourage playful behavior and exploring, which might be a blessing if you have a lazybones of a cat or one struggling with excess weight.
The house has an indoor lounge section measuring 19.75 x 15 x 12.25 inches, which is enough to host a couple of cats snugly. This space can only be entered through the door in the front, which has no flap. There's also a rooftop balcony with extra cute country-style railing and a roof to keep your kitty dry for those who prefer elevated spaces. To get there, the cat needs to climb some stairs at the side.
Just like out top pick, this feline retreat has a raised base to keep it dry in rainy weather. A little wobbliness is likely due to somewhat crudely cut wood, which is the main downside of this otherwise great house.
It is made of natural fir wood that looks quite nude to the naked eye but, in fact, is weatherproofed with outdoor-friendly water-based paint. Again, we don't recommend using it in an extra cold/wet climate without further insulation.

PROS:
Beautiful rustic look;
Great hunting and play experience due to the two-story design;
Good rain protection;
Promotes physical activity;
Weather-resistant paint.
CONS:
Not for extreme weather conditions;
The legs might feel a bit unstable.
3. CozyCatFurniture Waterproof Wooden Cat House: A Premium Outdoor Cat Shelter for Multiple Cats
If you are determined to give the feral cats that seem to have adopted you some royal treatment, this luxury log house is a good option. While priced more heavily than the previous two products, it also has a number of features to keep the animals extra comfy.
Made of untreated Western red cedar wood, the house is built to last. The planks look thick and sturdy, and all the hardware that comes with it is really rugged. Assembly is a piece of cake and takes about 20 minutes if you have a power screwdriver.
This house consists of an enclosed 24-inch x 23-inch x 20-inch area, raised well above the ground for really wet and muddy conditions, and a canopy that covers the entire platform. That is, this shelter has a weatherproof felt paper plus cedarwood roof plus a loft.
No stair is included, which means your cats will need to jump if they want to enjoy the upper deck, which means it's not the best option for older and/or sick kitties. There's just one door in the house, but you can order one with two if you want to.
Additionally, CozyCatFurniture offers a vinyl flap for the door for better insulation. Inside the walls as well as underneath the roof and the floor, there is ½-inch thermal-ply insulation to keep the house warm in winter and cool in summer.

PROS:
Great craftsmanship;
Excellent rain protection with an extended canopy;
Enhanced wall, roof, and bottom insulation;
Easy to assemble;
Spacious.
CONS:
Pricey;
May be difficult to enjoy if your cats are aging and/or have mobility problems.
4. K&H Pet Products Outdoor Kitty House: A Budget-Friendly Outdoor Kitten House
K&H offers two versions of its large nylon cat shelter, including a heated outdoor cat house. However, we have another favorite in the heated category and will thus focus on the unheated option.
This is an instance of good value for money. Made of dense 600 denier nylon with a backing of vinyl, it does a good job of keeping kitties warm during the winter. It has two doors that make it possible for a cat to run straight through it, with plastic flaps included for the cold months.
According to the manufacturer, the design is waterproof. However, we don't recommend leaving it in driving rain as it can't withstand a lot of water. A pad would also be welcome to add warmth when the ground is really cold.
The interior measures 17 x 22 x 14 inches, which is roomy enough for two grown-up cats. Chances are high that kittens will love it, too, because it's really warm and feels soft to the touch. The design mimics a semi-detached house, which looks nice, although more color options would be welcome.
This structure is really easy to assemble due to the intuitive hook and loop system. No specialized tools are needed. The house is highly portable, and the roof is easily detachable for cleaning purposes.

PROS:
Dense material to keep the cats warm;
Relatively roomy;
Minimalist design;
Very easy to assemble;
Affordable.
CONS:
Not really rainproof;
Probably needs a warm lying pad.
5. Trixie 3-Story Cat Home Playground: A Fun Outdoor Cat Shelter
This cat house stands out immediately because it has as many as three tiers. Rather than providing shelter and protection against the elements, its purpose is to hide cat food if you have other pets or feel like there might be predator danger. It's clearly designed to entertain cats through physical activity, too.
The structure might look intimidating, but in fact, it's easy and quick to put together. Made of wood with a plastic base footing to prevent weather-induced rot, it is reasonably stable at 22 x 23 x 37 inches, the latest dimension being the height.
The stain-painted frame is neither particularly sturdy nor fragile. Unfortunately, it gives off an intense pine-like smell that some people might find disturbing.
Maintenance is relatively easy due to a big hinged door added to the two kitty doors in this house. The paint is not stain-resistant, so washing it is not particularly easy, though.
No insulation is included, the elevated base, the roof, and the side door plastic flap being the only weatherproofing features. Cats are still likely to love it unless it's extra cold or rainy. The best option is not to expose the house to the elements but keep it on your porch or under a canopy.
While tall enough for two cats, the tower clearly lacks space for more, and bigger cats might find the shelves too small to lie on. Still, it's a great adventure/feeding/hideaway option for the money.

PROS:
Won't hurt your budget;
Offers a lot of fun options;
Relatively easy to set up and maintain;
Cute quirky design;
Stable.
CONS:
Not weatherproof;
Strong pine smell.
6. Kitty Tube: A Quality Insulated Outdoor Cat House
While not particularly cute-looking, this UFO-ish cat house might be the perfect solution for feral cats where winter is really cold.
The model boasts a thick layer of floor insulation that raises the bedding above the ground to keep it warm at all times.
Kitty Tube Gen 3 was a success in itself; this Gen 4 version features 15% thicker insulation compared to previous models. The flow-through foam material is used to keep any moisture resulting from condensation away from the bed area, paired with a system of drain channels.
It's not just the floor of the Kitty Tube but its walls and roof that are insulated. Besides, there's the straw that comes with it which makes up to two layers of fresh bedding.
There's just one door in the egg-like cat house, with a removable flap for extra warmth and an awning to keep it dry. By looking at it, you might feel concerned because it hardly gets enough fresh air. However, the lifting handles on the sides also double as little windows for ventilation.
The product measures roughly 24 x 24 x 23 inches and is spacious enough for two adult cats or a cat mom with her babies.
Finally, the plastic that the Kitty tube is made of is from recycled goods and is resistant to cracks and other defects. We find this shelter quite efficient unless it's raining really hard. Leaking has been reported occasionally in stormy weather even despite the shell design.

PROS:
Roomy;
Smart drainage;
Decent insulation;
Made of recycled plastic.
CONS:
Not 100% rainproof;
Some people don't like how it looks.
7. ecoFLEX Albany Outdoor Feral Cat House: A Quality Large Outdoor Cat House on a Budget
This 21.8 x 19.1 x 20.2-inch minimalist cat house is a good option for shoppers on a budget who value build quality and unfussy design.
It is essentially a box made of ecoFLEX, a silicone-based material that is appreciated because it doesn't fade, splinter, or rot. Unlike wood, it's not attractive to bugs, which is also a welcome feature in the outdoor setting. It stays warm in winter and more or less cool during the summer.
Another good thing about ecoFLEX is that it rinses well, so cleaning this house isn't going to be much of a chore. According to the manufacturer, you can even use a hose. The roof is detachable for this purpose.
The structure is slightly raised on sturdy, stable legs to keep the bottom warm. Two cat entrances are included, both equipped with flaps for the purpose of weatherproofing. What it clearly lacks is an awning for rainy days.
While reasonably large, this is not the roomiest cat house on the market. Two bigger cats might find it somewhat too snug unless they like to cuddle; we don't recommend it if you see a lot of feral cats passing by your property every day. The setup procedure is tool-free and as simple as the house's design.

PROS:
Won't hurt your budget;
Simple assembly;
Washable with a hose;
Bug and rot-proof;
Good insulation.
CONS:
Smaller than ideal;
No awning.
8. Petmate Kitty Kat Igloo: A Scratch-Friendly Outdoor Cat Shelter
This cat house is built like an igloo, with a rounded hood so that precipitation doesn't stay for long. It is made of non-porous plastic that eliminates fleas and mold, which is a common problem with wooden surfaces. Unfortunately, it's not completely free of the characteristic plastic smell, so it might be a good idea to air it a little.
The Kitty Kat condo measures approximately 26 x 25.3 x 18.5 inches. However, given the shape, the footprint is way larger than the actual space your cats can use. It is still roomy enough for two, or a mom plus kittens group.
The design is light and portable. It's also easy to assemble as the two parts simply snap together.
While providing reasonable protection against the elements due to the dense plastic dome and thick carpet that makes the bottom, this model lacks a flap, so you might need to make one yourself. Another problem is that the structure offers little protection against predators such as raccoons.
One way in which the igloo really stands out is the scratch-friendly carpet. Cats are known to have a need for scratching, so directing this urge to an appropriate outlet is a great bonus.

PROS:
Affordable price
Quick and easy tool-free assembly
Flea and mold resistant
Carpet flooring promotes scratching
Warm and dry
CONS:
Poor predator protection
Inefficient space use
9. K&H PET PRODUCTS Outdoor Heated Kitty House: An Outdoor cat House for Winter You Can Rely On
If you live in an area where winters can get really cold, a heated cat mansion becomes viable. This K&H model features a heating pad with a wire attached to it that enters through a pre-made hole in the floor.
Made of dense 600 denier nylon on a vinyl backing, this house ensures good protection against rain but isn't completely waterproof as advertised. The 20 Watt heating element adds a lot to the coziness of this shelter, paired with the fluffy fleece cover that can be removed and washed as needed. The product has been MET certified to meet applicable safety standards.
The structure itself is fully portable and easy to put together using a hook-and-loop system combined with some zippers and Velcro for reliability. It has two entrances opposite to each other, complete with removable flaps when the weather gets harsh.
The main problem with this affordable, safe, and extra warm house is that it's not as spacious as it should be to comfortably fit two or more cats. The sleeping surface only measures 18 by 14 inches, which is still okay if your balls of fur don't mind each other.
Please note that this house works best in semi-enclosed spaces such as porches, garage, etc. due to the fact that it uses electricity, so exposing it to too much rain might be a bad idea.

PROS:
Inexpensive;
20 Watt heating according to safety standards;
No-tools easy assembly;
Rain and cold protection;
Washable heating pad cover.
10. PETYELLA Heated Cat House: A Really Cute Heated Outdoor House
Users love the sweet detail of this design, with a "shingle" roof and a little house number sign on the front.
Just like the model above, this house uses a heating pad to keep it warm in extreme temperatures. Apart from the standard chew-proof cord, a free extension cord is included. It also comes with a plug-in timer to save your money. A hole is provided in the house so that the cord can enter it smoothly.
With two non-detachable see-through flaps, the house offers moderate protection against wet conditions as it is made of rainproof fabric with the walls overlapping. Some people don't like the fact that the flaps are heavy, but it surely adds to thermal insulation.
It is extremely quick and easy to set up and doesn't require any tools. The 17 x 13 inches bed will fit two average cats really snugly. Unfortunately, this model doesn't include a washable heating pad cover to make cleaning easier. Just like the model above, this house is perfect for use in garages and other sheltered areas.

PROS:
Effective heating;
Heater timer included;
Tool-free, quick, and easy setup;
Chew-proof cord;
Protects against rain and cold.
CONS:
Not too roomy;
No washable cover.
Buyer's Guide: Choosing the Best Outdoor Cat House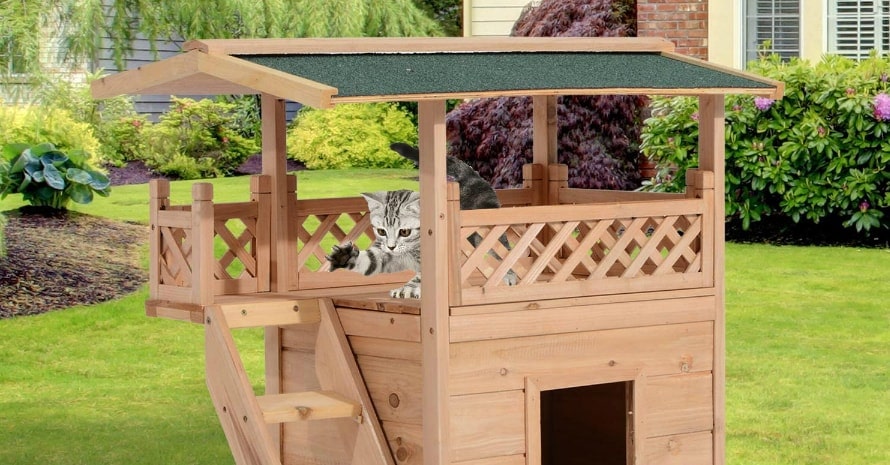 With the market overflowing with all kinds of adorable pet furniture, choosing a piece that's really useful and worth the money can be a challenging task. Here are some criteria to guide you when purchasing houses for outdoor cats.
Do I Need to Get an Outdoor Cat House?
Unlike indoor cat furniture, outdoor shelters are designed with harsh weather conditions in mind. These include cold, rain, and heat. Apart from offering a comfortable microclimate, an outdoor cat house is supposed to keep the cats safe from hunters, such as raccoons.
You might need an outdoor cat house if you own a cat who likes to explore the great outdoors, especially if he or she values privacy. This kind of shelter is even more important for feral or stray cats. If you have spotted such felines on your property, giving them a waterproof outdoor cat house that will keep them warm is a great idea.
Outdoor Cat House Classification
Cat houses designed to be placed outside roughly fall into two categories, those with electrical heating and unheated ones. Both types have their pros and cons.
The key advantage of getting a model with a heated pad in it is obvious. Cats love everything that's warm and are more than likely to frequent a home like this. Good designs normally feature wind and rain protection as well.
The main problem associated with electrical heating is that you need to keep the house somewhere you can plug in the cord.
Unheated cat houses rely on thermal insulation to keep the animals warm. This is achieved by using adequately dense materials, often paired with design features to divert precipitation.
Houses in both categories also differ depending on size, material, entrance solutions, weatherproofing techniques, installation procedure, and maintenance.
Size
The bigger, the better doesn't apply because huge rooms are difficult to keep heated. A house that measures at least 25 x 18 inches is generally good. Multiple tiers work well to get your cats moving and offer diversity, which is always great.
Material
Wood is safe and natural. It gives you adequate protection against the elements in temperate climates but won't be enough in extremely cold/wet conditions unless further insulated. It is a great way to stay cool in summer, though.
Quality plastic doesn't have many of the problems associated with wood, such as leaks and bugs. However, it can get really hot and doesn't let in much air.
When dense enough, nylon breathes more air than plastic while also ensuring insulation. It's also very lightweight, which adds to portability but can be a nuisance if the weather is rainy. Nylon and plastic are washable, unlike wood.
Finally, modern materials such as ECOflex combine durability with good insulating properties and are generally cooler than plastic and nylon.
Entrances
It's best to get a cat house with two entrances as a safety feature, so the cat doesn't find herself trapped inside when attached by a predator. This is currently the most common type of protection against wild animals.
Weatherproofing
This includes insulating panels, entrance flaps (preferably removable), and, less often, design features such as drain channels or dome-shaped roofs to divert rainfall. It's also essential that the house should be raised above the possibly wet ground.
Installation Procedure
If DIY isn't your cup of tea, choose a house that has as few parts as possible and doesn't need specialized tools to set up. Some single-tier designs are actually as simple as a flat sheet that you can turn into a house by putting up the walls and fastening them together.
Maintenance
Think about how you are going to clean your cat house. Given the setting, everything from cat poop to food to dirt is possible, so it's best to choose something that is either stain-resistant or easily washable. If the structure is big, a detachable roof or bottom is a must.
FAQ on Outdoor Cat Houses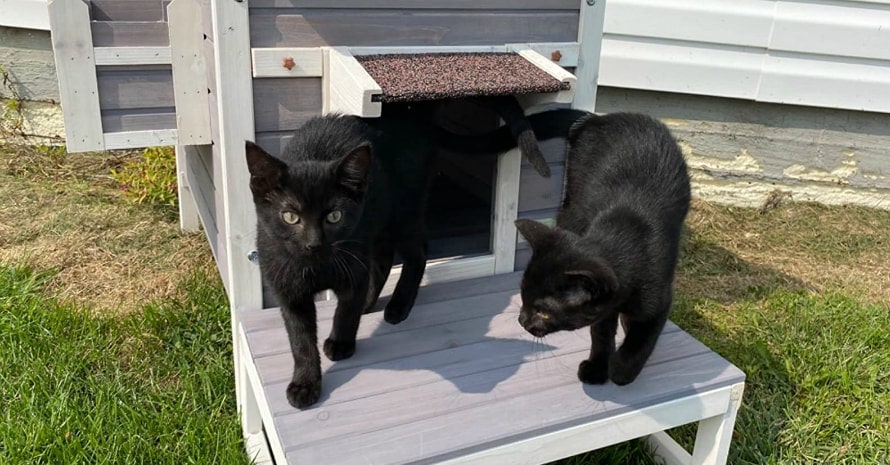 In this section, we briefly answer some of the most common questions that arise concerning outdoor cat condos/houses to host multiple cats.
What is an outdoor cat house?
An outdoor cat house is a structure that contains enclosed lying spaces that can be used by cats and which is designed to be used outdoors. This means weatherproofing is a priority.
How can I keep outdoor cats warm in winter?
Get your friends a properly insulated, rainproof house. How insulated and how warm depends on your climate. An outdoor heated cat house set up on a porch, or any other sheltered area makes a great cat retreat if winter gets really fierce in your area.
How long can a cat live outside?
The outdoors is rife with dangers that don't exist in a human's home. This is why the life expectancy of an outdoor cat is estimated at just two to five years.
Are outdoor cats OK in cold weather?
The short answer is yes, provided that they have access to weatherproof shelters. Kittens, as well as aging cats, must not be left outside when the temperature drops below 45 degrees Fahrenheit.
What do you do with outdoor cats in the winter?
The shelter is key. It's essential that strays have a safe, private space that feels warm and dry. It should also offer protection against predators such as raccoons, especially with kittens or sick cats. Food is important, and so is water. Remember that water turns to ice quickly in extreme temperatures, and make sure your furry friends have something to drink.
Bottomline
What to look for when shopping for an outdoor house to host multiple cats at a time depends largely on the climate you live in.
Those who enjoy temperate weather will love Petsfit's roomy wooden outdoor shelter. If winter tends to get freezing cold, however, a heated cat house can be the right solution, with a lot of options in between to choose from according to your taste. Just be sure to get a nice cozy hideaway for your cats!
What made you check this article? Is it for your adopted cat or stray passersby? Share in the comments!
Last update on 2022-06-26 / Affiliate links / Images from Amazon Product Advertising API