When an animal lives in the wild, its claws easily grind off while running, hunting, and climbing trees. Pets do not have such opportunities. To help you keep your kitty healthy and your home safe from damage, I've written reviews on the five best cat nail clippers. They will really simplify your life, as you can trim your pet claws yourself and don't need to go to specialists to do it.
Long nails can grow in or cause discomfort when walking. Also, a cat can get caught on a carpet or some piece of furniture, which will lead to a finger injury and the need for medical intervention. When nails grow long enough, pets themselves begin to grind them off. At best, they scratch a scratching post, at worst, your furniture.
Manicure scissors are not suitable for cutting pet claws. They are much thicker than human nails and have a different structure. High-quality, specialized tools have an unusual shape so that you can safely cut a claw without splitting it or damaging small blood vessels. Such a product should be easy to use because the sooner you complete the procedure, the less stress your cat will experience.
5 Best Cat Nail Clippers
Claw clippers are visually and functionally different from scissors. But most of these accessories work in similar ways. When choosing a tool, remember not only about its quality but also about the fact that you should be comfortable working with it. An ergonomic handle will make your task easier, speed up the work process, and save your pet from possible injuries.
1. My Top Pick: Shiny Pet Nail Clippers
I know how difficult it can be to find a tool for kittens and other small pets. Compact Shiny Pet Nail Clippers will be an excellent option for those who want to make their cat get used to trimming nails procedure from the first months. You can use them to work with kittens and dogs of extra small and small breeds (up to 10 pounds), rabbits, rats, and even birds. They are perfect for both professional and casual use.
The item has a scissors-like design, angled shape (20°), and durable stainless steel blades. This results in a perfectly smooth nail cut. While there is no built-in nail guard, the user-friendly design ensures that you don't trim more than needed or harm your pet. This tool has a windowed opening that allows you to see which part of a claw you trim.
Also, clippers are equipped with comfortable recycled plastic handles and non-slip rubber coating. Despite the small size and weight (0.6 ounces) of this product, the handle rings will be convenient even for those with large hands.
At first, they open and close rather tightly, but over time, the connecting screw will loosen a little, and they will work smoother. These kitten nail clippers are not a one-piece design: the metal blade is embedded in plastic handles. So there is a possibility that with excessive pressure, they will break. Therefore, do not use it for clipping the claws of large pets.
If you have never performed a nail trimming procedure or doubt your actions' correctness, the manufacturer offers a free manual along with this product. Just scan the QR code and read the instructions. Each stage is explained in clear language. Remember that you should do the procedure when the cat is calm and relaxed.
PROS:
Perfect for tiny pets;
Great design;
Comfortable handles;
Free instruction.
CONS:
It's not easy to sharpen curved blades.
2. Runner Up: Gonicc Pet Nail Trimmer Scissors
The Gonicc Pet Nail Trimmer Scissors is another miniature model made specifically for working with small pets. Their design is pretty similar to ordinary nail scissors; however, both of their blades are curved, not straight, as in simple tools. They are made of high-grade steel and are incredibly sharp. The tool gives a perfectly straight edge of a claw without splitting or squeezing it.
A precise and quick session is the key to a calm cat. Some pets are quite restless and do not like being held, so it is important to do everything quickly and clearly.
The handgrips are made of thick plastic and covered with a rubber coating to prevent clippers from slipping out of your hands. They also have small anti-slip notches for greater grip. The tool is small, lightweight (0.8 ounces), fits comfortably in hand, and is really comfortable to work with. The small size is advantageous, as some cats are afraid of big things, especially if they are noisy. But these scissors open pretty quietly and smoothly.
Although the manufacturer indicated that this cats nail cutter could be used even on small breed dogs, I would not recommend doing this. Still, the tool is really better suited for cats, and not the largest ones (I'm afraid it won't cope with Maine Coon claws either). The hole in its blades is so small that a large object simply won't fit.
If your kitty has very thick claws, the chances are that these scissors split them. That is why the manufacturing company recommends performing the cutting procedure after a shower when pet nails are softer.
PROS:
Excellent sharpening;
Lightweight;
Open smoothly;
Affordable.
CONS:
Not for cats with thick claws.
3. Best Cat Nail Trimmer for Large Cats: Gonicc Professional Pets Nail Trimmer
This model differs from others on my list with its design. Gonicc Professional Pets Nail Trimmer is not made in ordinary scissors but resembles a pruner or gardening shears. Thanks to a built-in spring, it is more powerful than other counterparts and handles the thickest claws with ease. This is what makes it an excellent tool for working with large-breed cats. The trimmer is most often used by professional groomers.
Since it is easy to overcut claws using such powerful accessories, it has a special stopper. If you do not accidentally calculate the right distance, a nail will simply rest against it, and you will not trim more than necessary. It is an excellent option for those who do not have much experience with a clipping procedure yet. This way, you can avoid injury from accidental mistakes.
Since the tool is designed for regular and professional use, it is made of really high-quality materials, reliable and durable. The stainless steel edges are thick and extremely sharp. This sharpening allows you to make a smooth cut without the need for subsequent processing with a nail file. However, it comes bundled, and you can use it if you want. The file is conveniently hidden in one of the tool handles, so you won't lose it.
These cat nail clippers with guard weigh quite a lot (5.28 ounces) due to their unusual design. It has thick handles (like pruning shears) that are covered with non-slip rubber. There is also a locking function for the blades that locks them securely in a closed state. It is convenient in case your kids decide to play with the trimmer.
PROS:
Safety stop guard;
Unlock protection;
Nail file included;
Durable.
CONS:
A little tricky to use;
Heavy.
4. Professional Cat Nail Clippers: Boshel Cat Nail Clippers
Boshel Cat Nail Clippers are popular with professional groomers. It is another quality scissors-like model on my list. It is slightly longer than previous products, which means it is suitable not only for kittens but also for adult cats of large breeds.
The slightly elongated shape will be a big plus for those with large hands. However, they are compact enough (0.63 ounces) that you can hold them in your hand while wrestling with your resisting pet.
The blades are made of durable stainless steel and have a small angle of inclination. Each of them has a semicircular hole for kitty nails. The design allows you to see the distance from the claw edge to easily control your actions and not cut off more than needed. There is no guard installed in this model.
I know that some cat owners prefer products with it to prevent a claw from getting too deep. However, in my opinion, it is better to control everything yourself. Even with a guard, it is possible to hurt your pet by cutting off too much.
The blades are really sharp, and they stay that way even after a year of regular use. So you don't have to think about how to sharpen these scissors. The plastic handles have a soft rubber coating that prevents the tool from sliding out of your hands. The plastic they are made of is very thick, making the product durable and able to withstand any load. They are a little tight to open, but the process becomes more smooth after a few uses.
PROS:
Reliable;
Hypoallergenic;
Lightweight.
5. Lightweight Cat Nail Scissors: JOFUYU Updated 2020 Version Cat Nail Clippers
This model is available in two colors and two shapes: straight and curved. Based on my own experience, I recommend choosing the curved one, as it will give you the best viewing angle and cut just as much claw as needed. This shape makes the clipping process safer. The model has an angle of 25°, which is slightly more than other manufacturers' products.
Curved scissors-like instruments are popular with both professionals and ordinary users for their ability to trim nails in one swift motion, unlike trimmers, which take quite a lot of time to cut claws with them. Either way, you need to get used to the JOFUYU tool. And if you can't trim all four paws in one session, that's okay. Treat each paw separately.
This tool is used by groomers to work with a wide variety of pets, from kittens and guinea pigs to parrots and small dogs. These clippers' blades are made of durable stainless steel, and handles are made of hypoallergenic environmental pp. They are sharp enough to give a perfectly smooth claw cut without the need for further leveling with a file. They do not crush or split nails.
The plastic handles have a non-slip rubber coating and deep grooves for a more secure grip. They are slightly smaller than, for example, the previous model. It seems to me that for people with large hands, the thumb hole will be too tight. Otherwise, they are very comfortable in hand.
They are easy to operate as they open and close very softly. The scissors weigh a little, at just 0.7 ounces. It is one of the most lightweight and comfortable models on the market.
PROS:
Reliable;
Hypoallergenic;
Lightweight.
CONS:
It will take time to get used to the large tilt angle.
Cat Nail Clippers Buyer's Guide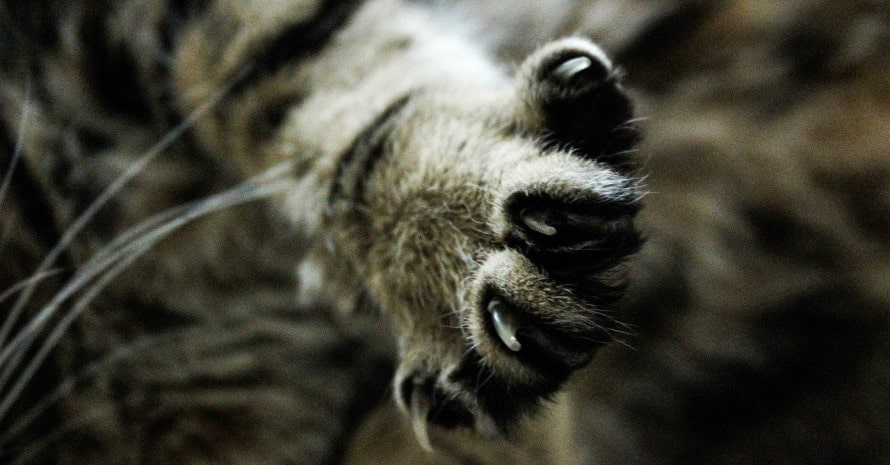 Now that you know which clippers are the best, in my opinion, I would like to jump right into the cat nail clipping process.
Why should you cut cat claws?
Pet claws grow constantly. Animals that live in natural conditions grind them down without difficulty by running on hard surfaces and climbing trees. At home, pets are deprived of this opportunity. Overgrown claws can cause discomfort and even lead to serious injury. Besides, due to destructive behavior, pets can catch their claws on the fabric of a sofa or carpet and break their fingers. You can use nail caps as an alternative, but they are not everyone's cup of tea.
How to do it right
In general, this process is not difficult at all; however, you should remember a few simple cat nail care rules. To make cutting comfortable for both you and your pet, follow these steps:
It is better to carry out the procedure when your pet is most calm and relaxed. For example, while it sleeps. You can pick it up, talk calmly, pet it. When it's fully calmed down, start cutting.
I recommend "acquainting" your kitty with the instrument before starting the procedure. Put it next to it; let the cat smell it. This way, when you start a session, it will not be intimidated by an unfamiliar object.
It is also recommended to massage the paws and pads a few days before the trimming. The pet will get used to being touched in this area and will not struggle.
Before starting the procedure, wash your hands with soap water and ensure that the instrument is disinfected.
Be sure to familiarize yourself with the anatomy of the cat's paws and claws before cutting. Even the nail has nerve endings and blood vessels that you can damage if you cut off too much. Examine your kitten's claws. The live part of a claw is pink or dark brown (depending on fur color), and the one that can be cut off is transparent. Never cut too close; always step back a little from vessels.
Take the scissors so that they fit securely and comfortably in your hand. You should be in complete control of every movement, especially if your cat is not sitting still. Gently press a pad on one paw to make a claw show off slightly and clip the transparent part.
Precautions
It is important to carry out the procedure cleanly and in good lighting so that the vital part of a claw (with blood vessels) is visible. If it is damaged, it can bleed and hurt your cat. If bleeding is severe, immediately apply a tight bandage and, without wasting time, contact your vet. Mild bleeding can be stopped with hydrogen peroxide.
If there are signs of illness, it is better to postpone the procedure until better times. You should not cut the claws of a pet that has just eaten or is very scared, as it may vomit. If a cat gets nervous and struggles, it will jerk its paw and hurt the claw or finger.
Why is a quality tool so important?
A clipper should be beneficial for cats and their owners without causing harm and stress. That is why it is essential to choose a high quality and convenient tool. It should be sharp enough to cut off even the thickest nail in one stroke, without splitting it. If the sharpness is not enough, you will have to treat claw edges with a nail file to remove the roughness.
FAQ on Cat Claw Clippers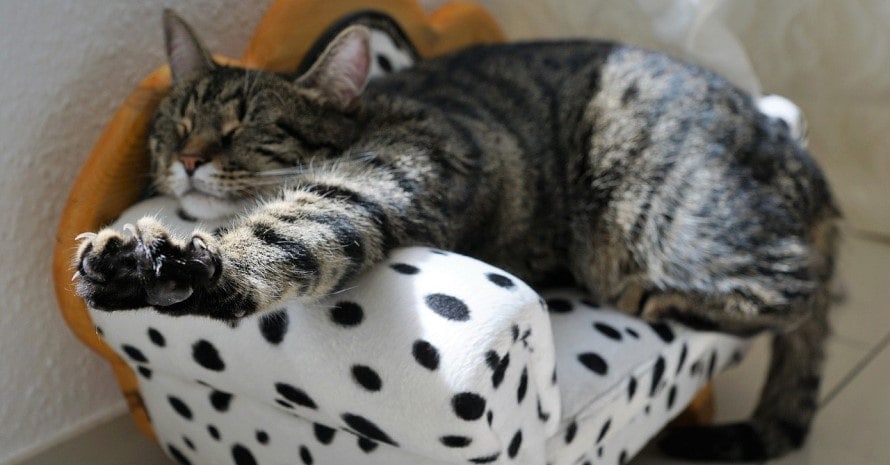 This section contains answers to the most popular questions from my readers.
What type of nail clippers are best for cats?
In my opinion, the scissors-like clippers are the best. They are sharp, quiet, efficient, and have an ergonomic design. If you have a large breed cat, you can purchase a pruner-shaped tool.
What is the best way to trim a cat's claws?
It is best to put a cat on your lap, with its back to you, as if leaning it on your stomach. It will give you control over all of your pet's legs. Since cats, when escaping, push off firmly with their hind legs, start with them so as not to be scratched during the procedure.
Is it necessary to trim your cat's claws?
If your cat is not accustomed to a scratching post, then clipping is highly recommended. It will save you the problem of ingrown nails, torn furniture, and injuries if your pet gets caught in the fabric.
How often should you trim your cat's nails?
It depends on the pet's characteristics. Some claws grow to their usual length in two weeks, and some in a month. Examine your cat's paws regularly to determine the frequency.
It's Manicure Time With the Perfect Cat Claw Trimmer
All experts agree on the need for regular cutting of pet claws. I hope my best cat nail clippers review will help you find the perfect product. When buying an instrument, you should not save money because a high-quality product will serve you for many years. Its convenience guarantees the simplicity and painlessness of a regular procedure. Remember to care for and store the clippers properly to keep the blades sharp.
Please tell me in the comments about your experience with cutting cat claws. How often do you perform this procedure? Which trimmer model do you use?
Last update on 2022-06-26 / Affiliate links / Images from Amazon Product Advertising API