Pet owners are ready to go to any tricks to keep their favorite furniture, clothes, curtains, and their own hands from a cat's claws. One of the latest innovations in this area is special covers. They can be made of rubber, plastic, and silicone. Manufacturers promise not only an instant solution to the problem but also safety for your pet itself. But is it really so? In this article, I will analyze all cat nail caps pros and cons, answer the most popular questions, and recommend a few products that you should pay attention to.
Pros
There are different colors
Reusable applicators included
Top Pick
Pros
There are different colors
Runner Up
Pros
Reusable applicators included
Nail Covers for Cats Benefits and Drawbacks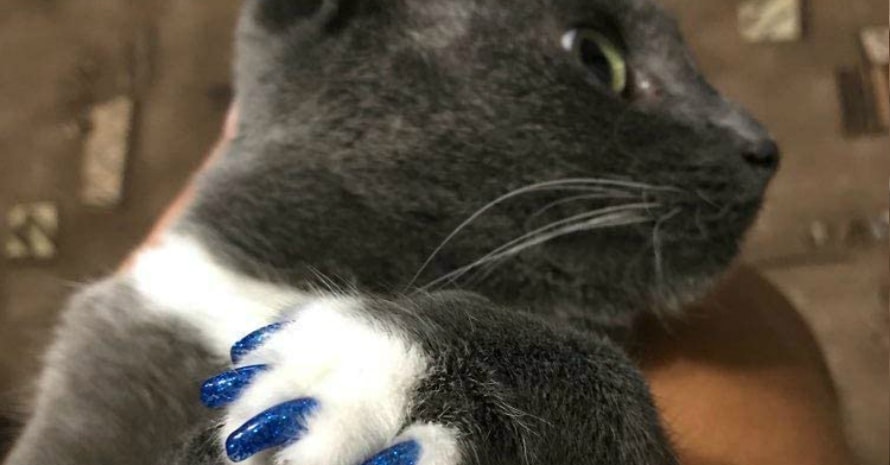 Of course, few people like damaged curtains and furniture or unhealed scratches on their hands. It is recommended to use nail covers as one of the humane methods of correcting habits. What are their advantages, disadvantages, and are cat nail caps safe for your pet?
Advantages of nail caps for cats
The main purpose of this accessory is to protect you against cat claws. Covers are a more humane way to deal with the effects of cat activity than declawing. One of the most obvious benefits is the safety of your home and furniture. With their sharp claws, cats can destroy many things, but as caps have soft rounded ends, they will not be able to do this anymore.
The second important benefit of using covers is your safety, the safety of those around you, and other pets in your house. While playing, cats can inflict serious damage with their claws, which will take a long time to heal. Besides, they can be carriers of dangerous diseases, especially if they walk outdoors.
These caps are safe for pets as they do not interfere with the natural nail growth and are easy to attach with glue. They can even protect cats from themselves. It is not uncommon for hairless breeds to accidentally injure themselves while scratching.
Disadvantages of covers for cat claws
Sometimes pet owners forget that scratching is a cat's natural behavior. That is, they do it not out of harm, but because of nature. Therefore, any ways to prevent it may not be perceived very well by a pet. Caps can be difficult to put on a particularly angry, aggressive cat that does not like it when someone touches the pads on its paws.
As these accessories are made of soft materials and have rounded ends, a pet's paws' natural grip is impaired. Because of it, cats cannot climb trees, they get swept up on turns and disable to defend themselves in a fight. That is why covers are recommended to be used only for domestic cats.
It is essential to learn how to attach covers to your pet's claws. If they are not properly positioned, they will prevent your cat from retracting its claws, significantly alter its gait, and will definitely cause discomfort. To avoid this, choose the correct size of an accessory or cut it to the desired length.
And if your pet is very active and playful, caps can fall off rather quickly, and you will have to re-apply them. It has also been noticed that some cats may try to remove them with their teeth. In this case, there is a danger of swallowing a part or even choking. It is important to regularly examine the claws to prevent diseases' development due to improper use of caps or individual intolerance to materials.
The final verdict on cat claw caps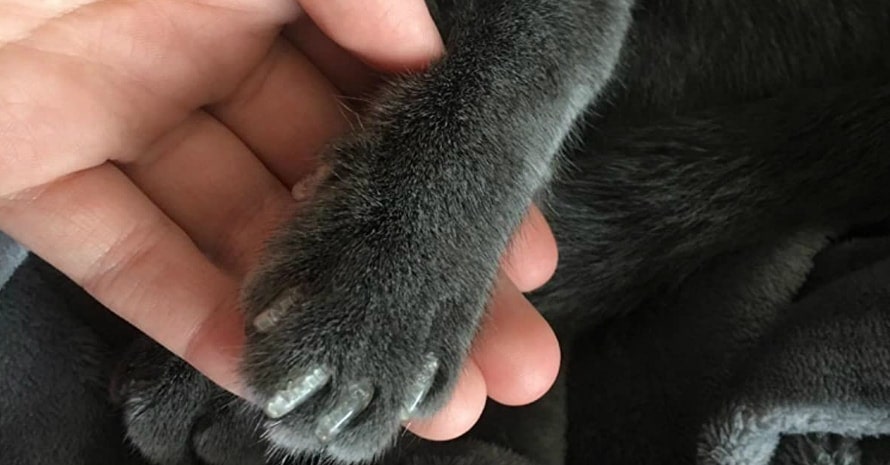 As you can see, this accessory has several significant benefits, but it also has certain disadvantages. Never use them on street cats; otherwise, they will not be able to defend themselves. Also, caps cannot be used for kittens up to 6 months, since their claws are still soft, for elderly and inactive pets, in the presence of claw diseases and allergies to any components.
In other cases, claws can be used safely. It is only important to follow simple rules:
Don't forget about nail clipping — trim claws before starting the procedure to avoid piercing the caps.
Treat the nail surface with a disinfectant to prevent infection.
Fill covers with glue no more than a third so that it does not spill out and glue the pet's paw and fur.
At the end of the procedure, hold the cat in your arms for 10 minutes so that the glue dries.
I also recommend rewarding your pet with its favorite food, praising it for good behavior, and smooth out any unpleasant memories.
Fake Nails for Cats Reviews
It is better to buy from trusted manufacturers to ensure that an accessory does not cause your pet's discomfort and lasts a long time. Below are reviews of three great products that deserve your attention.
1. My Top Pick: YMCCOOL 100pcs Cat Nail Caps
These vinyl nail caps for cats are the best item overall. You can choose from four available sizes depending on your pet's weight and length of its claws. They are quite soft, so if you can't guess the size the first time around, they are easy to cut. There are 100 covers in 10 different colors in a pack.
The kit also comes with five tubes of medical glue that is non-toxic and safe for cats. It's quite runny, so be careful not to pour too much when using it.

PROS:
Easy to cut;
There are different colors;
Budget-friendly.
2. Runner Up: VICTHY Nail Covers for Cat Claws
If you want to get even more bright colors, then buy soft caps for cats from VICTHY. The package contains 140 randomly selected covers. This option is probably not suitable for those who prefer that their cat's claws were the same color. The set also includes seven tubes of glue and seven reusable nozzles with long spouts for easy application. Depending on the nail's growth rate and your pet activity, these patches will last from 2 to 6 weeks.

PROS:
Soft;
Different sizes;
Reusable applicators included.
CONS:
Colors are picked at random.
3. Best Kitten Claw Caps: Soft Claws Feline Nail Caps
Small kittens' claws form in the first few months of their lives, so vets do not recommend using covers. However, when your pet grows up a little, you can begin to accustom it to this accessory. The Soft Claws Feline Nail Caps set includes 20 caps for pets up to 5 pounds and 20 for 6-8 pounds. They can also be used on extra small and small breed cats. And thanks to a cleat lock system inside caps, they will stay securely on claws for a long time.

PROS:
For tiny kittens;
Safe if swallowed;
Securely attached to claws.
FAQ About Cat Nail Caps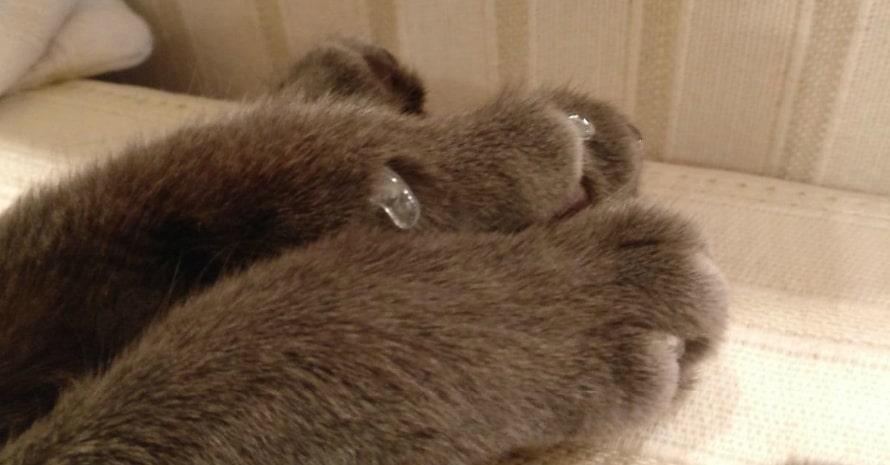 In this section, I have answered the most popular questions about claw caps. You can ask me your questions in the comments section below.
Is it bad to put nail caps on cats?
There are pros and cons to using these accessories. Much depends on the nature and individual characteristics of your pet. In most cases, nail caps do not cause discomfort.
What size claw caps to get for my cat?
Be guided by your pet's weight. The smallest covers are made for cats from 1 to 5 pounds, and the largest ones are for those over 22 pounds.
Why trim cat nails before cat claw caps?
It is done to avoid piercing an accessory while wearing and to prolong its life. Do not cut too much to avoid damaging blood vessels.
How long do cat nail caps stay on?
It depends on three factors: the nail growth speed, the pet activity, and the surface on which it runs. So this period can vary from 2 weeks to 2 months.
Do cat caps really work?
Yes, they really do protect you and your furniture from cat claws. Just give your pet some time to get used to the accessory and new feelings.
Use Kitty Caps But Don't Forget About Training
Such a newfangled accessory like nail covers has its pros and cons. Please study them carefully to make an informed decision. If you do decide to purchase caps, I recommend YMCCOOL 100pcs Cat Nail Caps. The manufacturer offers an excellent price/quality ratio. In any case, remember that the cat needs to be brought up so that it does not allow itself inappropriate scratching. Therefore, I advise using claw covers as an aid to complement the training.
Please share your nail caps using experience. How did your pet react to them? Did you manage to wean it from damage to furniture?
Last update on 2022-06-26 / Affiliate links / Images from Amazon Product Advertising API