As a cat owner, I know how annoying the little sticky hairs that your pet sheds literally everywhere can get. No matter how hard you try to keep the house neat and clean, the chances are high that your couch will end up furry anyway, and so will your best clothes as you leave home for an important meeting.
Advantage
Travel-sized brush included
No batteries/power source needed
Runner-Up
Advantage
Travel-sized brush included
Best Seller
Advantage
No batteries/power source needed
If you find yourself covered in cat hair all the time and aren't quite happy with what your sponge or vacuum cleaner can do about it (which you probably aren't), read this article to find out about the best cat hair removers on the market. I'll tell you about my favorite plus five excellent alternatives to save you time and energy de-furring the house. Shopping tips are included to guide your choice, too (see Buyer's Guide).
6 Best Cat Hair Remowers Reviewed
1. DELOMO Pet Hair Remover Roller: A Great Cat Hair Removal Tool for Larger Areas
Delomo is a relatively small brand that offers a range of pet care products with a primary focus on toys and removal. The latter line is chiefly represented by gloves, one of which I feature below, and smartly designed rollers.
I call these rollers smart because they'll save you a lot of time by picking up lint in a really efficient manner. The part that actually rolls is made of soft short bristle. You simply move the roller back and forth on the surface to clean, and whatever lint there is sticks to the bristle and ends up trapped in the high-capacity lint container.
However, I find that some hair still tends to stay on the brush, so it needs additional cleaning. The manufacturer specifies that you cannot wash it, recommending instead to use a wet towel.
Since there are no components in the brush that need replacement, you only invest once. While being priced higher than average, it will probably last long as the handle is made of durable ABS.
PROS:
Built to last
Very efficient
Does most of the cleaning by itself
Easy to use
CONS:
Pricier than average
Needs additional cleaning with a towel
2. WELLTED 2020 Updated Pet Hair Removal Brush
On the face of it, this brush looks very much like the classic pet hair remover. Made by a highly specialized brand that only offers anti-fur brushes, this product features a relatively smooth double-sided head that effectively catches lint as you swipe it on upholstery or clothes. The fact that is has two sides rather than one makes the cleaning process more time-efficient, usually enabling you to finish the task before you have to clean it (at least with clothing).
As far as cleaning is concerned, this cat hair removal brush stands out among similar tools because you don't need to pick the lint off it by hand. A specially designed self-cleaning base is included in the kit. Just stick the used brush inside, and the fur will remain inside the base. You can then open the base's bottom end and dump the lint into the trash bin. The whole process takes mere seconds.
This also means that, unlike most adhesive cat hair removers, this tool is reusable and doesn't need any refills. This fact makes up for the slightly above-the-average price since you don't have to invest in expendables. The brush is made to last, too. This is an updated version of a previous product that features a durable ABS handle, which fits the hand well since it has a ribbed surface.
Finally, a travel-sized version of the same brush is included as a bonus. It will fit in most handbags and comes with a dedicated cleaning case, so those of you who travel with your furry friend will appreciate it.
The brush comes in several color options and has an unfussy design that simply looks good in your home. I recommend this as an effective and efficient multipurpose tool for cat hair removal. It also comes with a reasonable price tag.

PROS:
Effective lint removal
Quick and easy to clean
No refills needed, readily reusable design
Durable ergonomic handle
Travel-sized brush included
CONS:
Slightly pricier than average
3. ChomChom Roller Cat Fur Remover
Another dedicated brand, ChomChom offers a multipurpose pet hair removal tools as well as limited cat and dog editions. It's the generic hair remover, however, that I recommend to you as a viable alternative to my absolute favorite above.
Just like WELLTED, the ChomChom Roller doesn't use any adhesive. Instead, it utilizes static electricity generated when the user moves it back and forth to lift any lint off the surface and store it in the lint compartment. It's definitely not a brush, although the material is bristled; yet, it's not your average roller either because it doesn't go all the way around.
The head moves up and down a little, so, rather than using long strokes, be sure to take an aggressive approach and roll it as much as possible. When used properly, the product does a great job of collecting pet fur, and it doesn't take much time.
Due to the lint compartment included in the design, this roller is easy to clean. All you need to do is open it and throw whatever hair there is in the trash can. No replacement or refill is required since it's the movement of the brush alone that creates the effect.
It seems to be a common misperception that the roller must be powered. However, it doesn't require any batteries or other power source to work, so there are really no expendables. The body of the device is rugged enough to withstand everyday use, and the handle fits my hand well enough.
Unfortunately, it's not a travel-friendly option since the brush is relatively bulky. It's also a little bit more expensive than my top pick. I highly recommend it for cleaning your home on an everyday basis.
PROS:
Very good at removing hair if used correctly
No batteries/power source needed
Easy to use
Well-made
No refill required
CONS:
Priced higher than average
Not the best option for travelers
4. SEALEN Pet Hair Cleaner: An Easy Way to Remove Cat Hair on a Budget
Although not nearly as versatile as the above models, SEALEN's product does deserve a mention as a good budget-friendly cat fur remover. Please mind that it's meant as a cat hair remover from furniture and upholstery rather than clothing, so you'll probably need a dedicated brush if your pet likes to get into your wardrobe or is a cuddle maniac like mine.
The product looks very much like a moderately sized square sponge (3.8 x 3.8 x 0.79 inches). Made of high-density fiber foam, it isn't adhesive, nor does it have bristles. Cat fur doesn't stick to it. Instead, by rubbing the brush against the surface, you collect whatever lint there is in once place, from where you can easily pick it. That is, you get a fat ball of fur instead of a slightly (or not so slightly) furry couch.
Cleaning is probably the biggest advantage of this tool, as there's no need to clean it at all. Instead, you'll need to dispose of the lint it gathers. According to the manufacturer, the tool will last you up to one year. With frequent use, however, I'd expect about six months.
One drawback of this cleaner is that it's not the most convenient shape to hold. Holding it with your fingers makes longer cleaning sessions tiresome, so I can't recommend it as an all-round solution. However, it can be a great quick fix tool for busy cat owners.
PROS:
Portable size
Affordable price
Easy to use
Removes hair effectively
No cleaning required
CONS:
Not ergonomic
Furniture only
5. Evercare Magik Brush: The Classic Cat Hair Cleaner (That Won't Hurt Your Budget)
Made by a brand specializing entirely on pet hair removal products, this brush is priced much lower than my top pick and the runner-up, as well as some competitors advised as clever. It is a traditional brush with velvety bristle for picking up lint from clothes as well as upholstery. It simply delivers, and it's made to last.
No adhesive or tape is used, so you don't have to worry about replacement. Its principle of operation is very much like that of WELLTED. However, as a more budget-friendly option, it doesn't come with a self-cleaning tool included. You need to either pick up whatever fur you have collected by hand or use a smooth surface such as a pillow to rub the brush head against, and what you get is a ball of lint.
This product is two-sided. The fact makes it a good option for those who have a larger area to cover. The handle design is simple yet convenient. Made of durable plastic, the handle and frame are likely to last for a couple of years, even with everyday use.
I wouldn't recommend this brush as a travel option since it's bigger than what you would probably like to carry in your handbag or luggage where every inch counts.
PROS:
Highly affordable
Durable design
Effective hair pick-up
No refill/replacement needed
Nice grip
CONS:
Not the best option for travelers
No self-cleaning provided for
6. DELOMO Pet Grooming Glove: The Best Cat Hair Glove Available
While healthy cats lose hair all the time, part of it tends to stay in the animal's coat rather than fall off immediately. It does separate from the general mass of hair sooner or later, though, landing on your clothes and furniture. This is why pet gloves are quite popular with cat lovers.
These are pieces of rubber shaped like normal gloves that you wear on your hand while stroking your furry companion. There are soft bumps (in this case, made of silicone) built into the palm surface that help remove any shed hair that's still stuck in the pet's coat. The fur you collect stays on the glove.
Probably the best thing about these gloves is how much cats love them. The materials used don't feel scratchy at all. My Dezi enjoys a relaxing massage session with one of these. It turns out she sheds a massive amount of hair that would otherwise end up on our upholstery.
However, I must warn you that the grooming gloves do not prevent separate hairs from landing on furniture and/or clothes. This is a great tool to be used in combination with some home-cleaning products.
DELOMO offers a set of two gloves so you can choose one depending on which is your dominant hand. These are one-size-fits-all gloves due to an elastic wrist strap that helps adjust the size. People with smaller hands say that the size might turn out somewhat too big, but not dramatically. The gloves are also machine washable.
PROS:
Most cats enjoy the massage
Keeps your home from getting hairy
Left-handed friendly
Machine washable
Easy to clean
CONS:
Might be too big if you have small hands
Buyer's Guide to Choosing the Best Cat Hair Remover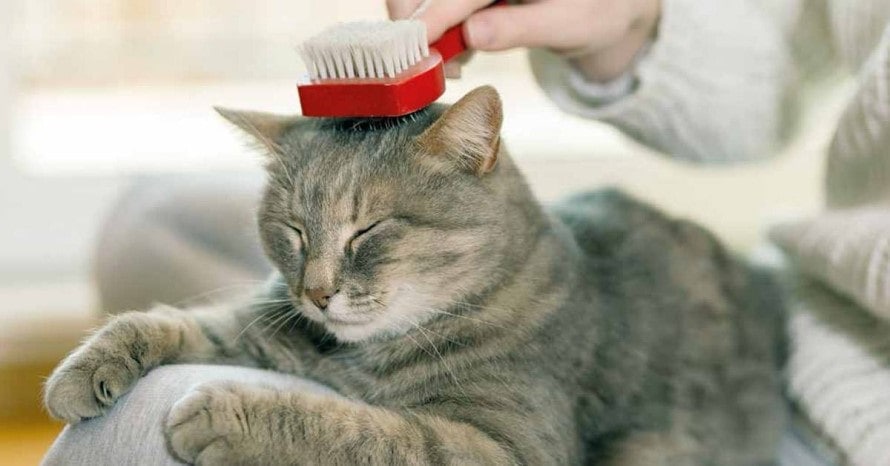 In this section, I'll tell you all you need to know in order to find the very best pet hair remover that will keep your house and clothes fur-free and your cat happy. Since many tools on the market differ in design and purpose, you must understand what to look for.
What is a pet hair remover and do why you need it
Broadly speaking, a pet hair remover is any tool that removes pet hair from a surface. There are two key approaches for picking up cats' or dogs' hair: you can either collect lint off your home surfaces or catch it before it even lands anywhere by giving your friend a brushing.
The former category is represented by rollers and brushes with various principles of operation. Traditionally, cat hair rollers used adhesive tape to collect lint, which you would then take off and throw away. While simple and relatively effective, the method requires regular refills and thus investment. Such rollers are still available and usually have moderate price tags.
Smarter models use a rolling bristled brush and a lint compartment for storing the lint until you decide to dump it. These need little maintenance and typically do a better job at picking up hair. They cost more, too.
Most brushes look pretty much the same. The biggest difference is that top models such as my favorite WELLTED come with self-cleaning options What you do is press the brush against the surface to clean and collect lint by making a series of light strokes. These often come in travel-friendly formats.
Finally, those interested in the preventive approach mostly look for pet gloves with silicone/rubber bumps embedded in the surface to remove dead hair. This practice, or traditional brushing, is part and parcel of preventing fur problems and grooming your cat properly.
What to look for in a pet hair remover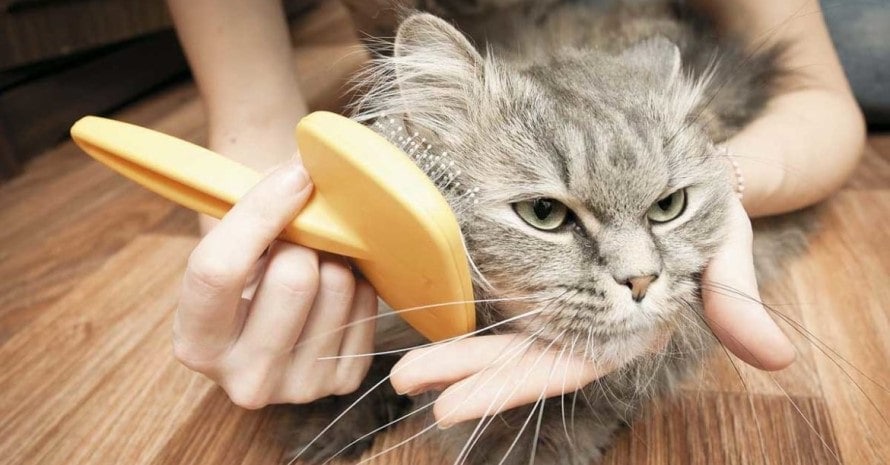 When it comes to collecting shed hair off home furniture, time-efficiency is key as you normally have a large surface to treat. Whether you prefer rollers or brushes, look for models requiring minimum effort and hold a lot of lint at the same time. A self-cleaning option such as a lint bin or a cleaning base (as in WELLTED's brush) is always a plus.
Handle and frame material matters, too, especially with pricier models that you expect to last. Acrylonitrile butadiene styrene, or ABS, is quite tough and resilient.
The latter also applies to brushes/rollers used to clean clothes. Apart from being rugged, these should come in the right format. The best cat hair remover for clothes will work well while taking up as little space as possible so you can carry it around while on a trip.
With hair remover gloves, the material is key. Poor-quality models might have sharp tips that can damage your cat's skin.
FAQ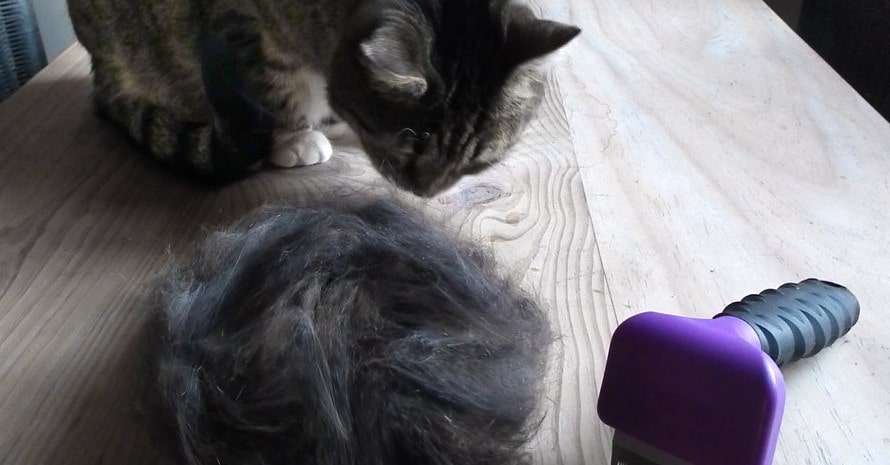 Here are the answers to some of the most common questions regarding cat hair removal. Feel free to use the Comments section if you feel like you have some doubts left.
What is the best way to get rid of cat hair?
First of all, make sure that the amount of hair that your cat sheds is normal. All healthy pet will lose hair on a regular basis, often with seasonal fluctuations, but if you see your cat licking herself way too often or even find bald patches on her, it's a sure sign that you should take her to the vet's. Excessive hair loss can be a manifestation of some common feline skin conditions or more general afflictions.
As for normal shedding, the best way to deal with it is probably by accepting that it's inevitable. There's no way you can prevent your cat from shedding hair. However, a good grooming routine including brushing, ideally followed by using a glove-type hair remover, will keep most of the fur from landing on your carpet and furniture.
Lint rollers and brushes are an effective way of collecting those that did, while vacuum cleaners don't seem to be really good at it.
How can I help my cat enjoy grooming?
The best solution here is to start at an early age. A kitten will usually accept brushing more readily that a grown-up feline with no previous experience of grooming. If your cat is past childhood age, there are still several ways in which you can make grooming sessions more enjoyable for her. Using a healthy treat in pieces, a tiny bit during the process, and a bigger one after successful cooperation is a widely accepted practice.
Brush material is also key. Make sure whatever tool you're using doesn't feel scratchy. It's also important to use the right technique, avoiding areas that your cat prefers to keep to herself at the beginning of the session. Finally, make sure you're in the right mood, and the atmosphere is calm, with no sudden and/or loud noises to distract your kitty.
How do you keep cat hair out of your house?
Regular cleaning is key. The most common strategy is to combine vacuuming with the use of specialized pet hair removal tools, such as the ones featured here. Slipcovers are a great way of protecting your furniture as they are machine washable, so you can simply replace the cover. This needs to be done on a regular basis, too.
The same applies to bedding. If prevention is your preferred approach to problem-solving, choosing the right materials might halve the problem. These include hardwood and tiles rather than carpets.
Can cats and dogs use the same types of pet hair removers?
The short answer is yes, they can. Your chance of success mostly depends on the hair texture of your pet rather than her species. Short straight hair is usually difficult to collect, while long and/or curly fur is way easier to deal with.
What is the best pet hair roller?
I highly recommend ChomChom's fur remover as I find it more efficient than most similar models. Besides, it uses patented technology to lift lint with the help of static electricity. The hair ends up trapped in the lint compartment, and the rollers needs way less cleaning than some competitors. Finally, it's a durable tool with no need for refills.
Takeaways
There are two ways of keeping the hairiness of your home in check: by using a cat glove to remove dead hair from your friend's coat before she sheds it and/or by utilizing rollers or brushes to pick up what's landed on your furniture and clothing. I find it most beneficial for you and your cat to combine both techniques.
I highly recommend WELLTED's brush as a multipurpose home cleaner for Stage 2 of the process. At the same time, a quality glove hair remover such as the one by DELOMO can be a nice preventive solution.
What hair removal method are you currently using? How well does it work? You're welcome to share your experience in the Comments section down below!
Last update on 2022-06-26 / Affiliate links / Images from Amazon Product Advertising API