A pill popper for cats is a hidden gem for cat lovers. Giving your cat a pill has to go down as one of the most daunting tasks for pet lovers like me. I have a fantastic cat Dezi who loves to cuddle. However, when it comes to taking a pill, it has to go down with a fight. I have tried the oldest trick, to put the pill in Dezi's food, but that wise creature has refused to take that meal. When I try feeding him the medicine, Dezi either spits the pill out or wriggles away. However, a pill popper for cats administers the medicine into Dezi's mouth.
There are many different types of pill poppers (or pill shooters). I have made a step forward to bring you my list of the best pill shooters for cat on the market. Moreover, I have answered some common questions raised by cat lovers concerning the use of a pill shooter for cat. After reading through this review, you and your cat can live a comfortable and stress-free life.
Pill Poppers For Cats of My Choice:
Preview
Top Pick
Runner-Up
Best Seller
Advantage
Has a tip that holds the medicine in place
Semi-hard plastic for holding pills
Interchangeable silicone heads
Top Pick
Preview
Advantage
Has a tip that holds the medicine in place
Runner-Up
Preview
Advantage
Semi-hard plastic for holding pills
Best Seller
Preview
Advantage
Interchangeable silicone heads
Best Pill Shooter for Cats Top Options Reviewed
Below is my list of the best pill shooters for cats on the market. My choice has been made due to factors such as durability, simplicity in use, and affordability. The list also is inclusive of my top products.
1. Kruuse Buster Pet Pill/ Tablet Syringe with Classic Tip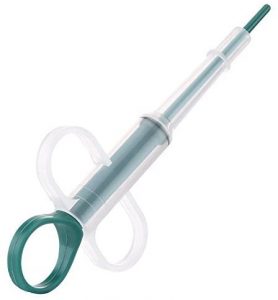 The Kruuse Buster Pet Pill is a natural, safe, and fast way of administering a pill or capsule to your cat. You can hold in place the syringe through the finger until the pill is firmly secured over the rubber tip.
It has a simple criterion of usage that includes filling the syringe with water while securing the pill with the grip. Gently stroke your cat until it opens its mouth while pulling back and releasing the trigger. The pill will be shot at the back of the cat's throat. The water will help with smooth swallowing. It is a simple way of ensuring there is no stress when administering medication to your cat.
The Kruuse syringe has a great width, which protects your fingers from the claws and hostile mouth of your pet. This ensures there is little discomfort between you and your cat. The risk of the pill lodged in the throat of the cat is eliminated with the use of water that helps to swallow well.
The added features make this syringe a preference for most cat owners in terms of liquid medication. It is a simple way of medicating your cat without any fuss or fight. It has a transparent barrel to guide you in delivering the pill to your cat.
PROS:
Convenient for feisty cats
Quick administration
Has a tip that holds the medicine in place
2. Pethouzz Pet Piller Pill Shooter
Compared to another pill shooter for cat, it works well with small capsules. You can coat the medicine with butter for easy dispensing. The shooter comes in an array of different interchangeable silicone heads. The first bit features a small slit, which is useful for holding small pills. The other part is used for liquid dispensation.
PROS:
Convenient for small pills
Interchangeable silicone heads
CONS:
Not advisable for large pills
3. Feline Greenies Pill Pockets Cat Treats
When you have had a hard time in administering medication with your cat, maybe it is high time to switch up your approach. Ease up on using the pill shooter and opt for the capsule pockets that come in a variety of flavors. You no longer need to hide your medicine in the cat's tuna anymore.
These treats remove the need for administering capsules, tablets, or pills. It features simple pouches that hide the smell and flavor of medicine. This also delivers a delicious salmon aroma that fits your cat's taste. These low-calorie pill pockets are a healthier alternative to human food. It has a rich nutrient concentration of protein, fat, moisture, and fiber. It is advised to get rid of the medicine smell that your hands can have when using the pill pockets.
PROS:
Easy to use
Low-calorie diet
Hides the smell and flavor of medicine
Available in different flavors
CONS:
Expensive compared to other regular pill pockets
4. Butter Sales Bullseye Pillgun
As it goes by the name, the pill shooter is precise when it comes to delivering medication directly in the cat's mouth. It is manufactured from high-quality plastic and ranks among the most durable pill shooters on the market.
The pill shooter for cat has a large capsule holder that can accommodate various tablets, making it crucial when giving multiple medicines to your cat. The semi-hard plastic container holds the pill or tablet in place at the tip of the syringe. It is important to ensure that the medicine will not fall off or be shuttered when shot into your cat's mouth. However, it is not best suited for delivering liquid medication. Hence, you need to have an alternative for chasing down the pill after administering it.
PROS:
Semi-hard plastic for holding pills
Large pill holder
High-quality plastic
CONS:
Not appropriate for liquid medication
5. Pet Piller with Soft Rubber Syringe Tip and Plunger
The popper has a soft rubber tip that has been secured tightly to the shaft. It is best suited for delivering half and quarter pills. However, a common problem associated with such pill shooters is that pet will hardly swallow while medicine administrating.
You should be armed with a water syringe to be used afterward or better be prepared with a treat for your cat. Other pets put up a fight, but a treat can erase that moment. I always advise making use of a gel cap smeared with butter before handing over to your cat. This will give it that peace of mind after an unpleasant procedure.
PROS:
Soft rubber tip
Highly convenient
High quality
6. Afco Pet Piller Pill Shooter – Best Pill Shooter for Cat
The pill shooter for cat is made from high-quality plastic for delivering precise doses of medicine to your cat. The unit measures around 15 cm x 5 cm, which is appropriate for providing large doses of medicine. It is easy to operate due to the simple additions. It is also non-toxic that is why you protect your cat.
PROS:
Easy to use
Durable
Non-toxic
CONS:
Not suitable for liquid medication
What Exactly Is a Pill Shooter for Cat
A pill shooter for cats is a simple device used in delivering a tablet or capsule of medication to the back of your cat's throat. The pill shooter for cat ensures that a cat will swallow the pill without spitting it back out. Do you wonder how to use pill shooter for cat? It has the similar features of a typical syringe, which is inclusive of three distinct parts including a long hollow housing, an inner plunger and a rubber tip to hold the pill in place when administering.
How to Use a Pill Shooter for Cats
Before administering the medicine, I highly recommend asking another person to help you with the process. After several medications, you can be safe to operate the dose by yourself. Your assistant should gently, but firmly hold your cat. My Dezi is very friendly, so it was not hard to hold him.
The pill shooter for cat works the same way as a syringe. You must place the capsule or pill on the popper first. Hold your cat firmly while moving its head back. During the process, you will observe the reflex while opening the mouth of your cat. You need to insert the pill gun quickly towards the back of the throat. Press the plunger down until you have delivered the pill. This requires swift movements.
The first thing you have to do is find the most suitable pill shooter for your purpose. Some pill guns can't work with liquid medication, others are too small to use them with large pills. Pick the pill gun you need, and follow this instruction step by step:
Introduce your cat to the pill gun before you use it. It is actually a great idea if you have a few days ahead of giving your cat pills. Just put a tip on the pill gin in the milk or cat's usual food. Let your cat lick it and get familiar with it.
Load pill gun with the pill. Pull the plunger back. Insert the pill into the gripper tip that is usually made of rubber.
Create a perfect trap for your cat. If you don't have a helper who can hold your cat firmly while you are putting the pill gun into his mouth, you have to be creative. If your cat loves to be held, you can just hold it. But there is no guarantee that it will sit straight while you will be putting something in its mouth. To avoid being bitten or scratched, wrap a big towel around your cat. Leave only its head "on the surface".
Insert the pill shooter in your cat's mouse. Try to do it with one hand. The other one will be holding the cat's head. Use your calmest voice to talk your cat out of the stress. Talk to it during the entire procedure. Move its head back really slowly. When the cat opens its mouth, insert the syringe to the back of the cat's throat. Press the plunger. The pill is delivered.
I recommend you practice all your actions with the syringe without the cat at first. Your moves must be firm and quick.
What's the Easiest Way to Give a Cat a Pill
The easiest way to give the cat a pill is obviously the one that does not involve physical actions towards your cat. The most peaceful way to give the cat a pill, in my opinion, is to feed this pill to the cat without it noticing.
However, this happens so rarely that cat owners keep the pill gun close to them. It is a stressful way for the cat to insert the medication, and it also may require your physical powers to hold the cat firmly. Meanwhile, this is the most common way to feed the pill to your cat.
If you still believe that your cat may swallow the pill willingly, I recommend you to try Feline Greenies Pill Pockets. Pill pockets are capsules with an empty place inside where you can hide the medication. They have a pleasant aroma and flavor. You can choose your cat's favorite dish: salmon, chicken, or tuna with cheese.
Place the pill inside the Greenies. You can put either a capsule or a tablet. After that, just pinch the hole with the pill, so it would not drop. It is unlikely the cat will find the pill inside. And you will not have to use the pill shooter if your cat does not spit it out.
The main disadvantage of this eatable pill pocket is that there are no guarantees that your cat may still find the pill after eating the pocket.
What Is a Gel Cap
A gel cap is an empty gelatin capsule, which can be divided into two parts where you can place the medication. You can insert the gelatin capsule into the pill shooter for cat. The capsules generally fit for human use.
Recently, Dezi had several medications to take at one go. I placed the pills together into one single gelatin capsule and administered it. This technique means that Dezi received all the medications at once. However, it is essential to note that some medicines cannot be halved. Therefore, you should seek advice from your veterinarian. I covered my capsule with butter to ensure Dezi swallowed the pill smoothly.
What is the Best Pill Popper For Cats?
If you are looking for the perfect pill shooter for cats, you have to check out your options and name your basic requirements. One thing is obvious: your cat did not like the idea of pills hidden in its food. When you have to give your cat pills, it is stressful for both of you. I recommend you to decide what exactly you and your cat want to receive from the pill popper.
The main requirements for any pill shooters are:
High quality of pill shooter materials;

The tip that is made in soft rubber or silicone. It can be changeable;

Convenience in use. It can have a slightly angled tip, big enough pill holder for a few pills;

There must be a capsule for the liquid pills;

Non-toxic;

Durable. You don't have to buy new pill shooter each time your cat requires pills;

Reasonable price. It does not have to cost as the most expensive cat three stand house.
Choosing Best Pill Shooter for Cats
This is a controversial question as every pet lover appreciates different features of the product. Most cat pill shooters have similar designs. There are few signs of quality that you should look out for when purchasing the product. You should ensure that the pill shooter is manufactured from a durable and easy to hold the material. It also displays the correct size of your cat's mouth. Remember about the nature of material and the cost of the product.
So, how to use pill shooter for cat and which is my favorite one? I highly recommend the Kruse Pet Pill Syringe pill shooter for cat, which is highly comfortable when you hold it with your finger. It also allows withdrawing small amounts of liquid that are useful in chasing down the pill. You can additionally wash and air-dry the pill shooter for repeated use. Most pill shooters come in a pack of two or ten. Check the above review on how to use a pill shooter for cats. The additional soft rubber ensures that the pills are held firmly without causing any form of discomfort in the cat's mouth.
However, which pills do you need to compound when administering with the pill shooter for cats? Do you have an alternative way of how to use pill shooter for cat for beginners? I would like to hear from you in the comment section below!
Last update on 2022-06-26 / Affiliate links / Images from Amazon Product Advertising API