Are you looking for a reliable, well-functioning dog proof cat litter box? My reviews of the top-rated dog proof litter boxes for cats available today will come in handy and help you identify the perfect tool for keeping dogs from your feline's litter box
Best Dog Proof Litter Boxes of My Choice:
Preview
My Pick
Runner-Up
Premium Choice
My Pick
Preview
Runner-Up
Preview
Premium Choice
Preview
I have researched and identified the best value product, the top-rated one, and provided my pick. Go through my unbiased, research-supported assessments to find the ideal litter box.
My Reviews of the Top Dog Proof Cat Litter Boxes
The above approaches have some limitations. That is why it is necessary to get a feline litter box. Here are my reviews of the best items available today.
1. Catit Jumbo: Top Pick of Dog Proof Litter Box
If you are looking for a litter box with a hood, then this is what you need to get. It offers a necessary shelter that ensures your feline removes their waste in private while keeping them away from the reach of dogs. It has a durable handle at the top to allow you to carry the litter box from place to place conveniently. If you have many felines in your home, it is the ideal box to get.
The hood of the box can be lifted easily, making tidying simple. There is a fitted bag anchor that keeps the bag tidy, allowing you to get your hands into the box to remove waste. Perhaps the most useful feature is the carbon filter that eliminates all foul smells from cat waste. If there is a need for other filters, you can buy them separately. This box can fit felines of various sizes given its door measurements of 10.4" by 9.6."
PROS:
Well-fitting hood
Foldable door
Bag-lock feature
Mess-free cleanup
Large size
CONS:
The carbon filter can get torn
2. IRIS Top Entry Dog Proof Litter Box Cabinet with Scoop
Manufactured by IRIS USA, Inc, this dog proof litter box provides a convenient place for cats to get down to business while keeping mutts off. It has a straightforward entry at the top to allow your cat to get in and out without any hassle. Compared to the others on this list, it is particularly deep, giving your feline plenty of space to shift about without soiling themselves. The cover is grooved to create a surface that prevents the disintegration of waste when the cat gets out of the box. Also, the grooving ensures that poop on the feline's paws is removed before they get out.
It has a round shape to allow for easy tidying with the provided scoop. Furthermore, there is a detachable hook where you can place the scoop after use. The item has dimensions of 20.8 by 16.1 by 14.6 inches and weighs 4.85 Pounds. It is available in different color combinations; black and grey, black and white, dark gray and gray, dark gray and white, gray and white, orange and brown, white and seafoam, and white and beige.
PROS:
Available in different colors
Well-sized entry
Easy cleaning
3. Cat Washroom Bench: Well-Designed Dog Proof Litter Trunk
For pet owners looking for a box that blends in with their home, the Cat Washroom Bench is a great buy. It's designed to look like a cabinet. You only need to open the door and place a litter box inside. It fits absolutely all box sizes. You can line this holder if you want extra protection, or your box is not a covered one. Your cat can then access it using an opening on the side. The opening also helps to get the light so that it's not dark inside. It also comes with a partition board inside to help you use the extra space as storage for pet supplies. You can, however, remove this partition if you need the entire room for the litter box.
The good thing about this box is that it looks elegant and fits right into your home. It is made of wood, and you can buy it in black, chestnut, or white, depending on what furniture you have in the room you intend to place it in. It's also very straightforward to assemble. You can install the opening on either side, depending on where you want to keep it. The magnetic double doors provide enough room for you to scoop out litter from the box or remove it altogether for cleaning. Instructions on how to put it together come with the box. Though heavy, you won't need to move it around or unassemble it once installed. There's also a small hole in the back that you can use if you have a litter box that needs plugging in.
If you want an excellent quality litter box holder that looks great in your house, this dog proof litter box furniture is a wonderful choice. I like that it keeps the mess and the odor in.
PROS:
Great design
Built for all box sizes
Hides litter box well
Sufficient room for multipurpose use
CONS:
Not easy to move around
It takes a bit of time to set up (instructions are provided, however)
4. Petmate Litter Pan: Best Value Cat Litter Box that Is Dog Proof
Petmate Pan delivers an excellent balance between price and performance. At a low cost, this tool goes on to provide favorable results just as the more expensive items on the list. It has a top entry and significantly higher sides to ensure that your cat has the utmost privacy when doing their thing. Bigger cats can fit into the pan effectively, given the large dimensions of the product.
With this item, you can expect a clean floor always because the raised walls enable your feline to dig and cover their waste without getting it to the floor. Better yet, there is a grated surface that removes dirt from the paws of your feline. Manufactured in America, this item is made up of recycled plastic, meaning a good thing for our environment.
PROS:
Huge, top-entry
Rounded edges for easy cleaning
Large surface area
CONS:
It takes time to learn proper use
5. Nature's Miracle: Best-Rated Dog Proof Litter Box Equipment
Tired of bad odors? Well, you'll love this litter box brought to you by Nature's Miracle. Known for providing excellent solutions for smells and stains brought about by pet dander, Nature's Miracle sells this simple litter box to take care of the unwanted mess on your floors. It's the best dog proof litter box as per customer ratings. It is sold in a greyish-silver color and weighs about 3½ pounds.
This litter box has a charcoal filter that gets rid of urine and dander smells, leaving the area around it fresh, and the odor absorbers work well for months. It also comes with a top cover to make sure nothing sprays or spills outside, especially if your cat sprays high. There are latches on the sides to help you keep the hood in place during usage and remove it easily during cleaning.
This litter box is easy for your cat to adopt as it ensures privacy and is quite roomy. It also has a spacious opening for easy entering. The opening comes with a swinging door to keep the odors in. But you can always remove it if you don't care about it. This litter box works well for all kinds of cats, including large ones. And while it is low enough for the cat to climb in, it has a high back to help keep the urine in. An amazing plus for this box is that the front part can be pulled up to increase the opening size, especially when you want to scoop out the litter. So, you don't need to remove the cover altogether.
With a non-stick interior, you won't be struggling to clean up your cat's mess after use. And while it is large, it is also square-shaped, which means it's fairly compact and easy to find an ideal location for.
PROS:
Huge size
Affordable price
Charcoal filter for odor control
Movable top for easy scooping
CONS:
No handle on top lid for lifting
A bit large for very small spaces
6. Clevercat Top Entry Dog Proof Cat Litter Box Furniture
This dog proof litter box features a rounded top-entry design, making it easy for your cat to get in and out of the litter box. Moreover, this set up makes it quite easy to tidy the product. Many users have noted that with this item, spills and smell from cat waste are significantly reduced. If your cat often digs and kicks the litter while covering their waste, this item will help to prevent it.
It is guaranteed to keep all mutts out all the time. Your felines will learn to use it in no time and will also enjoy the privacy that comes with the item. While using the product, you can choose to either use liners or eliminate them. This box weighs 4 pounds and has dimensions of 20 by 15 by 15 inches.
PROS:
Eliminates cat waste smell
Easy entry
High walls
CONS:
Not suitable for enormous cats
7. Petphabet Litter Box with Lid: Dog Proof Litter Crates for Multiple Cats
Well, you have more than one cat and are looking for something that works well for all of them. This Petphabet dog proof litter box is a simple yet great addition to your home. It is large enough for the two cats to use it at the same time. It measures 24.8 by 20 by 16.5 inches. It also comes in a variety of amazing colors. You can choose what works best for your cats and your home interior.
I like to keep the litter boxes clean, and so do my cats. This box is made of plastic, which makes it quite easy to keep it clean and free of bad smells. The pan is deep enough, and your cat's urine won't accidentally pour outside too. Also, it comes with a clear removable hood for reducing spillage that you can detach when you want to clean it. On the hood, there's a door built for the cat to enter or leave the box with ease. You can remove the door if you wish. Your cat can go to the toilet with privacy, and the litter won't scatter all over your living room. I liked that even when the hood was closed, there was still plenty of space for my cat to move around.
Since it's quite light (weighs about 2.8-3 pounds), you can move it around the house or your washing area without trouble. Overall, the best thing about this litter box is that your cat, regardless of age or size, won't feel squeezed in. Definitely worth a try.
PROS:
Plenty of room and rounded edges
Clear and removable hood
Ideal for large cats too
Non-stick bottom
CONS:
It takes a bit of effort to close the top cover to the box
The opening is a little high
Pro Trick: Buy Door Buddy's Adjustable Door Strap and Latch
Even with a great cat litter box, it can be a little difficult to keep the dog completely out, especially if it is only a bit larger than your cat. Solve this problem by purchasing Door Buddy's cat door latch and strap. Rather than go for more complicated, cumbersome, or time-consuming solutions, you can simply stick this strap between the door and frame leading to your cat's litter box. Then, adjust it to your preferred width. It will keep your dog out, and your cat will have the much-needed privacy.
How to Dog Proof a Cat Litter Box: 6 Useful Tips​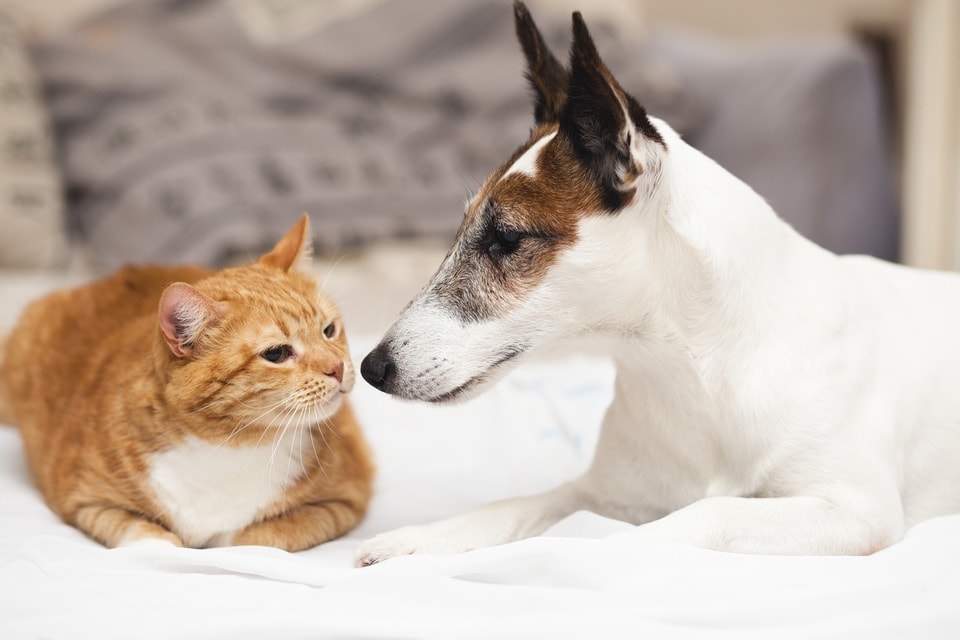 Elevate the Height of the Feline's Vessel
The first trick in the dog proof litter box DIY manual is to simply put the cat's box on a higher place, for example, a raised table. Be sure to put it at a level where only the cat can reach. That said, the problem with this approach is it can put you off, particularly if you use the table for other things.
Get a Box That Cleans Itself Automatically
Some electronic feline boxes come with an auto-cleaning function. It means, right after your cat is done, their waste is removed immediately. Nonetheless, your mutt, if very fast, might still get a bite or two of the waste before the cleaning is done.
Ensure That Your Feline Is in an Area with a Gate
You can choose to put your cat in a box that has a gate only to let them in, and no dog can get into. Factually, some gates are specifically designed to keep mutts out and cats in on the market today.
Remove Cat Waste Quickly
If most of the time you are at home, then you can manage to clean up after your cat right after they are done. However, this approach is not practical for all people.
Change the Taste of Your Feline's Waste
You can change the diet of your cat to make them release poop that is repelling to your dog. Nonetheless, you never know if your cat will be receptive to the diet change.
Provide a Cover to the Lid
Some owners resort to using litter boxes with covers that only cats can access. Nonetheless, it is essential to note that not all felines can be comfortable with covered boxes.
Final Verdict
Now that you know good dog proof litter boxes and how they work, you can find the best product for your cat. Overall, I'd recommend Catit Jumbo as it provides all you would need in a litter box: it's large, deals with odors effectively, easy to wash, and can be used by multiple cats. 
Petmate gives you the best value in terms of effectiveness and price. For an affordable price, you get a pan that works well for all types of cats. And my selection of best-rated is Nature's Miracle litter box. IRIS, Clevercat, and Petphabet are also good options depending on your preference and how much you are willing to spend.
And if you are the type of person who doesn't like to see your cat's litter box, Merry Pet's litter holder is a great additional buy. Coupled up with Door Buddy's strap, you'll have no litter on your floor, and your cat will be much happier!
So, which one of the listed products would you consider buying? Can you add your personal favorite to my list? I'd be happy to read your thoughts, ideas, and overall experience concerning these reviews. Feel free to share your opinion in the comments section!
Last update on 2022-06-26 / Affiliate links / Images from Amazon Product Advertising API