As pet owners, we all want our furry friends to look and feel their best. For American Wirehair cats, their unique coat requires extra attention and care. But where do you even start with grooming your American Wirehair? Whether you're a new owner or just looking for some grooming tips, we've got you covered. In this article, we'll cover everything you need to know about grooming and maintaining your American Wirehair's coat. From the best grooming tools and supplies to a step-by-step grooming process, we'll help you keep your feline friend looking and feeling their best. So, grab your brush and let's get started!
Understanding the American Wirehair Coat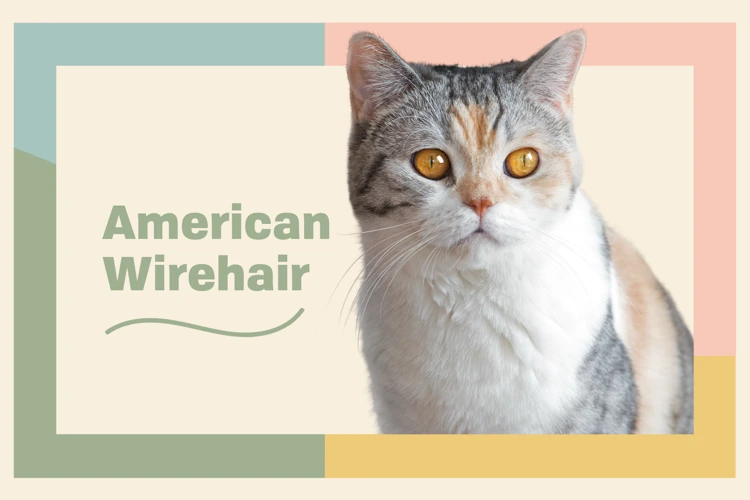 As an American Wirehair owner or admirer, you may be wondering how to maintain and groom this unique breed's coat. Before diving into grooming tips and tricks, it's essential to understand the American Wirehair coat. This breed has a distinctive and crimped coat that is different from other wire-haired cats. According to American Wirehair Coats, this breed's coat is the result of natural mutations from domestic shorthair cats. In this section, we'll delve into the characteristics of the American Wirehair coat and why grooming is crucial. We'll also touch on differences between their coat and other wire-haired breeds, genetics-related to their fur, and variations in coat colors.
Coat Characteristics
The American wirehair breed is characterized by a unique curly and wiry coat. The texture of the coat is different from other cat breeds and even other wirehair cats. Unlike other cats, the American wirehair's coat is springy and dense with a course texture. The curls on the coat are random and irregular, giving it a wild and unkempt appearance.
In addition to their unique coat texture, American wirehairs come in a variety of colors. Their coat can be solid, bicolor, tricolor, or tortoiseshell. The most common colors are brown, black, and blue, but there are many other color variations. To learn more about the different color variations of American wirehairs, check out our article on American Wirehair Cat Color Variations.
The American wirehair's coat is a result of a genetic mutation that occurred naturally. Unlike other breeds that have been selectively bred for their coat, the American wirehair's coat is a spontaneous mutation that was discovered in a litter of farm cats in upstate New York in 1966. The breeding of American wirehairs has been closely monitored to ensure that the genetic mutation that created the breed remains consistent. If you want to learn more about the genetics of American wirehairs, check out our article on Genetics of American Wirehair Fur.
Compared to other wirehair cats, the American wirehair has a denser coat. Other wirehair breeds have a thinner, more delicate coat. It is important to use grooming tools that are appropriate for the American wirehair's coat to ensure that their fur stays healthy and shiny.
Why Grooming is Important
Grooming plays a crucial role in maintaining the health and appearance of your American Wirehair cat's coat. Regular brushing, trimming, and cleaning help remove dirt, debris, mats, and tangles that can lead to skin irritation, infections, and hair loss. In this section, we will discuss the main reasons why grooming is important for your American Wirehair.
| Reason | Description |
| --- | --- |
| Prevents matting and tangling | Matting and tangling can be painful for your cat and difficult to remove. Regular brushing and trimming can help prevent mats and tangles from forming. |
| Removes loose hair and reduces shedding | Brushing your cat's coat helps remove loose hair and debris that can contribute to shedding. This process also helps distribute natural oils throughout the coat, keeping it healthy and shiny. |
| Prevents hairballs | When cats groom themselves, they ingest loose hair, which can lead to hairballs. Regular brushing helps remove loose hair before your cat can ingest it. |
| Identifies skin problems early | By grooming your cat regularly, you have a chance to inspect their skin and coat for abnormalities such as lumps, bumps, or lesions that may need medical attention. Early detection can prevent more serious problems from developing. |
| Promotes bonding with your cat | Grooming your cat can serve as a bonding experience for both of you. Regular grooming can help you build a deeper connection with your furry friend. |
Grooming your American Wirehair not only benefits their physical health but also strengthens your bond with them. It is important to make grooming a regular part of your cat's routine. If you want to learn more about the unique characteristics of American Wirehair compared to other wirehair cats, check out our article on American Wirehair vs Other Wirehair Cats.
Grooming Tools and Supplies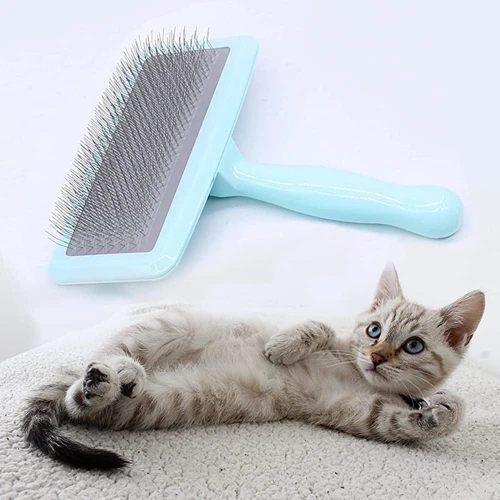 Keeping your American Wirehair's coat in tip-top shape requires the right tools and supplies. Fortunately, with just a few basic items and some patience, you can ensure your cat looks and feels their best. From brushing to bathing, every step of the grooming process is made easier with the right gear. Here are some essential grooming tools and supplies you'll need to keep your feline friend well-groomed and happy.
Bristle Brush
When it comes to grooming your American Wirehair's coat, one of the most essential tools you will need is a bristle brush. These brushes are designed to collect any loose fur and dirt from your cat's coat while also helping to distribute natural oils evenly throughout the fur. Here are some features of a good bristle brush:
Bristle Quality: Look for a brush with firm but flexible bristles made from natural materials like boar hair or horsehair. Synthetic bristles may cause static electricity to form in your cat's fur.
Brush Size: The size of the brush's head should match the size of your cat. For an American Wirehair, a medium-sized brush should suffice.
Handle: Make sure the brush's handle is comfortable to grip and won't slip out of your hand during use.
When using a bristle brush on your American Wirehair, begin by gently brushing through their fur in the direction of hair growth. Avoid using too much force or brushing against the grain, as this can cause discomfort for your cat. Pay extra attention to areas of the coat that are prone to matting, such as behind the ears and under the legs.
Regular use of a bristle brush can help keep your American Wirehair's coat looking shiny, healthy, and free of mats and tangles. It's a great way to bond with your cat and keep them looking and feeling their best.
Comb
When it comes to grooming an American Wirehair's coat, it's important to have the right tools for the job. One indispensable tool is a comb. Combing your cat's fur can remove any tangles or mats that may have developed and can help distribute natural oils throughout their coat, ensuring it remains clean and healthy.
Types of Combs:
There are many different types of combs available on the market. The appropriate comb for your American Wirehair cat will depend on their specific coat type and grooming needs. Here are some of the most commonly used combs for cats:
| Comb Type | Description |
| --- | --- |
| Flea Comb | A fine-toothed comb that is best used to remove fleas, eggs, and other external parasites from your cat's coat. |
| Wide-Toothed Comb | A comb that is suitable for use on long-haired breeds, as it can easily detangle and remove mats. |
| Medium-Toothed Comb | This comb can be used on all coat types, but is particularly useful for cats with medium length hair. It can remove minor tangles and help distribute natural oils. |
| Fine-Toothed Comb | An ideal comb for grooming short-haired breeds, as it can remove loose hairs and debris from their coat. |
How to Use a Comb:
Using a comb on your American Wirehair is relatively easy, but it's important to keep a few things in mind. First, make sure your cat is calm and relaxed before starting the grooming process. Begin by using a bristle brush to remove any loose debris from their coat. Once the coat is clean, use the comb to work through any tangles or mats. Be gentle but firm, and ensure that you don't tug on the cat's fur or pull too hard.
Start by combing the fur in the direction that it grows. Begin at the head and work your way down towards the tail, combing the fur in small sections. If you encounter a tangle or mat, use your fingers to gently tease it apart, and then use the comb to smooth out any remaining snarls.
Remember to reward your cat with treats or praise throughout the grooming process, so that they form a positive association with being combed. With patience and practice, you will become an expert at combing your American Wirehair's coat in no time!
Nail Clippers
Keeping your American Wirehair's nails trimmed is crucial for its health and comfort. Long nails can cause pain and discomfort while walking and may also lead to infections. To ensure your cat's nails are at a proper length, you will need a good pair of nail clippers. There are different types of nail clippers available, such as guillotine-style and scissor-style clippers. You can choose the type that you are most comfortable using.
Here are some tips for using nail clippers when grooming your American Wirehair:
Make sure your cat is comfortable and relaxed before starting. Calmly talk to your cat and give it a treat to distract it.
Hold your cat's paw and gently press on the pad to extend the nail.
Position the nail clipper around the tip of the nail, avoiding the quick. The quick is the pink area that contains blood vessels and nerves, so if you cut it, your cat may experience pain and bleeding.
Clip the nail in one swift motion. Be sure to not cut too close to the quick.
If you accidentally cut the quick, apply pressure with a styptic powder to stop the bleeding.
Repeat for all nails, including dewclaws, which are the small nails on the inner side of the paw.
Remember to reward your American Wirehair with lots of praise and treats after the grooming session. Regular nail clipping, every 2-3 weeks, will help maintain the proper length of the nails and keep your cat comfortable and healthy.
Ear Cleaner
When it comes to grooming your American Wirehair, cleaning their ears is a task you shouldn't overlook. Dirt and wax buildup can lead to infection, discomfort, and hearing loss for your furry friend. That's why it's important to have an ear cleaner in your grooming kit.
Here are some types of ear cleaners to consider:
Liquid Ear Cleaner: This type of ear cleaner is applied directly into your cat's ear canal and helps to loosen dirt, earwax, and debris. It usually comes with a dropper for easy application. While using it, remember to gently massage your cat's ear to help the solution dislodge any buildup.
Ear Wipes: These pre-moistened wipes are a convenient option for cleaning your cat's ears. They're gentle and effective, and are an ideal choice for cats that don't like liquid solutions.
Powder Ear Cleaner: This type of cleaner is applied to the ear and works by absorbing moisture, dirt, and wax. Once the powder has done its job, you can simply wipe it away with a clean cloth or tissue.